Most SaaS startups focus more on Top of the Funnel (ToFu) content that drives traffic and pay less attention to Middle of the Funnel (MoFu) and Bottom of the Funnel (BoFu) content that drives free trial and freemium signups.
Truth is…
Except you're a big-name SaaS brand, acquiring millions of traffic without conversions won't impact your bottom-line revenue.
The reason is simple…
Most people who read your top-of-the-funnel content don't even know they have a problem or actively seek solutions.
Of course, ranking for high-volume keywords and generating tons of traffic shows you're doing something right SEO-wise. That said, it doesn't translate to business success in most cases.
So, what can you do to drive more leads and signups directly from your SEO content pieces?
That's exactly what I'll be sharing with you in this piece.
After reading this article, you'll learn the following:
What pain-point content marketing means
Why pain-point content marketing matters for SaaS startups
How to identify pain-point topics you can go after
Pain-point content examples you can learn from
Prefer video?
You can check this out.
Want to acquire users and increase revenue for your early-stage B2B SaaS startup? We built the ROI-driven content marketing framework for you. Schedule a free discovery session to see exactly how it works.
What Is Pain Point Content Marketing?
Pain-point content marketing involves targeting keywords and creating content pieces to address the problems that keep your prospects awake at night.
In most cases, these keywords have zero or low search volume in SEO tools but have a lot of business potential.
I coined this term after reading this post about pain-point SEO from the guys at Grow and Convert.
When thinking of pain-point content marketing, put yourself in the same shoes as your ideal B2B prospect about to make a buying decision.
Truth is…
In most cases, B2B buyers don't buy things immediately. Instead, they go through a lot of back and forth thought processes, which involve doing in-depth research.
Here is an example…
Let's say a CMO has heard great things about Salesforce and wants to become one of their customers.
Do you think they'll pull out their credit card and sign up right away? In an ideal world, that's possible but rarely happens.
So, what do you think they will do first?
They'd most likely check Google or ask other CMOs and marketing executives for things like:
"Salesforce competitors"
"Alternatives to Salesforce"
"Salesforce pricing"
"Salesforce vs. Hubspot"
"Best CRM software."
"Salesforce reviews"
And in most cases, the information from this search will influence their decision.
Here's where the opportunity lies for you as a SaaS startup.
When you create pain-point content pieces like this for your business and rank high on Google for these keywords, you'd drive tons of qualified traffic that converts into leads and signups.
Why Pain Point Content Marketing Works For SaaS Startups
Wondering if creating pain-point content will help you in any way? Here are some reasons you should consider investing in pain-point content as a SaaS startup.
1. Helps you land some top rankings on the SERPs fast
You might have heard that SEO takes time before it works. While that's true to a large extent, there are factors that can shorten the time it takes before you start seeing results from SEO.
And guess what?
Creating pain-point content is one of those.
If you're just starting with content marketing for your SaaS, I recommend prioritizing these MoFu and BoFu keywords.
They're high-intent keywords and one of the easiest and fastest ways to rank high on Google and acquire signups and paying customers for your startup.
The best part…
Most people searching for pain-point keywords on Google or asking elsewhere are in the mood to buy.
So, if you create a content piece that genuinely helps them, you'd convert them into leads and customers for your product.
2. It has less competition
There is less competition for most pain-point keywords.
Here is why…
Most marketers and SEO professionals rely on SEO tools for keyword research. And these keywords usually have low or zero search volume on these tools in most cases.
Hence, your competition on the SERPs is mostly affiliate websites and not software companies in the same niche as you.
This presents a huge opportunity that you can leverage as a SaaS startup. By creating and ranking for these keywords, you can easily dominate the SERPs in your niche for them.
3. Helps in building brand awareness
If you want more people to know about your SaaS product, focus on pain-point content.
The reason is simple…
Pain-point content types either compare, mention the best in the industry, or list alternatives to a popular brand in your niche.
Ranking for these keywords would help make your brand known and more popular among your prospects.
6 Pain Point Content Marketing Types That Drives Business Results
Want to know what pain-point content looks like? Here are some pain-point content types that you can leverage to grow your SaaS startup.
1. Comparison [X vs Y] pages:
This is the holy grail of pain-point content marketing.
The reason is simple.
When someone is searching Google for keywords that compare two different products or services, it means they're in the mood to buy.
And what they find on the SERPs will most likely influence their buying decision.
Creating pages that compare your SaaS to other competitors will satisfy this search intent.
And if you can rank high on Google for them, you'll convert more prospects to customers.
If you're an early-stage SaaS startup, you could also compare two or more bigger competitors in your niche. That way, anyone searching for these competitors' comparison posts in your niche will know that your product exists.
This is one of the SEO strategies that Signaturely leveraged, and it helped them acquire 30,000+ user signups in 12 months.
Here is an example of Mailchimp comparing its email marketing software to Hubspot.
2. Best [SaaS category] software/tools pages
If you're in a competitive niche, there is a probability of existing solutions like yours in the market.
For a prospect who wants to know about all the options before making a purchase, what do you think they'll do?
They'll most likely search Google for something like "best SaaS category" software or tools.
For instance, if you're in the email marketing niche, a prospect would likely Google: "best email marketing software" or "best email marketing tools."
And if your tool isn't found or mentioned in the SERPs, they won't know about it.
While your software could be mentioned on these existing "best category software" posts, your best bet is to target this keyword with a specific post on your website.
That way, you can control the narrative and show the reader why your software is truly one of the best in the category. Hence, leading to more brand awareness and conversions.
In this post about the best project management software, Hive lists its software as one of the best.
3. Alternative to X [X Alternatives]
Here is a fact…
Customers are always on the lookout for the best deal out there.
And if they aren't satisfied with a particular product or feel that they're paying too much, they'll start looking for alternatives.
And this is where alternative pages come in.
If an ex-customer of your competitor is looking for an alternative(s) to them, you want to be mentioned, isn't it?
The best way to be there is to create a page on your website that targets that keyword or phrase.
And guess what?
If a prospect finds out that you're a great alternative to the solution they want to ditch, they'll want to check your product out.
In this post about Hootsuite alternatives, Socialpilot lists its software as one out of the 13 products mentioned in the piece.
4. X Pricing [How much does X cost] pages
I don't know about you, but the pricing page is one of the first things I check out whenever I'm on any SaaS website.
And if I'm okay with what I see, I will sign up for a free trial (if that's an option).
Truth is…
Most of your prospects search Google for your product's pricing, even before landing on your website.
So, having a page on your website that addresses that is something you must do.
And guess what?
If you don't create a pricing page on your website, affiliate websites or competitors in your niche will.
This might lead to misinformation or loss of potential customers since no one knows what your product costs.
Don't want that to happen to you? Create a pricing page for your SaaS, or give prospects an idea of your pricing.
This pricing page by Sendinblue is a great example.
5. Template pages
Starting something from scratch is difficult. Having a template you can use or learn from would make your work easier, isn't it?
What if you help your prospects do just that? So, instead of showing them how to do things, create templates that help them solve that pain point.
Take for instance…
Every agency owner knows they need a client intake form to onboard new clients.
But if they're new to the business, they most likely don't know how to create one for their agency.
So, what do you think they'll do?
Spend hours trying to create one, or look for an existing template that they can tweak and use.
In most cases, they won't choose the former because they want to look professional and not lose that new client.
And if they choose the latter, guess what they'll do next.
Search Google for the keyword: "agency client intake form template."
And any website on the SERPs with client intake form templates for agency owners that they can download and use becomes the hero isn't it?
And if it's a SaaS that helps agency owners manage their clients better, they'll most likely bookmark the page, sign up for a free trial, or even spread the word about them.
The point is…
Your potential prospects and customers need templates. It's a huge pain point for them, so create templates that make their work and lives easier.
The best part…
You can easily convert prospects to sign up for a free trial of your product using free templates on your website.
This agenda template by Hypercontext includes different templates that you can use to set a meeting agenda for various purposes.
6. Features/use cases pages
This is similar in approach to product-led content.
This simply means highlighting the pain points that your audience has and showing them how to solve them using your SaaS product.
This works because it makes prospects see your software in action, which can help convert them directly to user signups from your content pieces.
You can also create different pages on your website, highlighting your software's various features and use cases.
One company that does this well is Veed.
They have over 100 different pages on their website targeting the various use cases of the software.
And this has contributed immensely to the company's impressive growth in the last five years.
How to Identify Pain-Point Topics That Convert Organic Traffic to Leads and User Signups
Here are four ways to identify pain point topics and keywords you should target for your SaaS business.
1. Survey your existing customers
This is the easiest way to identify your prospects' pain points.
The reason is simple…
Your existing customers represent your potential customers. They were once in their shoes before choosing your product.
So, asking them questions to know exactly why they chose your product and what's going on in their mind will help you a lot.
Below are some questions you should ask them to find this information and many more.
What specific problem(s) were you looking to solve before signing up for our software?
This helps you identify keywords that someone who wants to search for your SaaS is looking for.
If you were to describe our software to a friend who knows nothing about us, what would you tell them?
This helps you know the language of your audience and prospects. That way, you can understand the terms they search for that you might never have thought of.
If you didn't stumble on our SaaS, which other solution(s) will you opt for?
This question will help you know your top competitors according to your customers.
What are the top 3-5 things you love most about our product?
This helps you know your product's features and use cases that you should create more content for.
2. Follow discussions in niche communities
If you're a SaaS founder, join communities where your target audience hangs out.
These communities are a goldmine for knowing the pain points of your prospects and customers.
This could be a Facebook group, Slack community, and so on.
For example, if your software helps content marketers, then join niche communities for content marketers.
You can know exactly how your prospect thinks and the solutions they compare you against from these interactions.
Here is an example from a thread in a Slack community for content marketers.
As you can see, content marketers are comparing Frase to other solutions like Clearscope and Topic.
Also, from this discussion, you can identify the exact pain points that content marketers want to solve using these products.
3. Use Google Autosuggest and People Also Ask (PAA) Box
For most pain point keywords, especially comparison posts and pages, you'll most likely not get the information you need using keyword tools.
So, what should you do instead?
Simple.
Use Google Autosuggest and PAA.
Here is what that looks like in real life.
Say you run Sendfox and want to create competitor pages on your website. To know the products your prospects are comparing you with, search Google for "Sendfox vs."
And Google will show you the exact keywords to target:
As you can see, people are searching Google for:
Sendfox vs. Mailpoet
Sendfox vs. Substack
Sendfox vs. Mailchimp
And so many more.
And for the People Also Ask (PAA), you can use it to identify competitor keywords to target.
Here is an example from a Google search for "alternatives to Grammarly."
As you can see, we can identify some Grammarly competitors from the PAA box, such as:
WhiteSmoke
Ginger
Prowriting Aid
QuillBot.
If you were to use an SEO tool, you'll most likely not find these keywords.
To learn more about using Google Autosuggest and PAA boxes for keyword research, you can check out the YouTube video I recorded below.
4. Leverage Google Search Console
Google has the most accurate information about your website and the queries users search before visiting it.
With Google Search Console, you can know exactly what these queries are and create content and pages related to them.
The best part…
You can use the filter to search for queries containing specific keywords that you want to target.
For example, if you want to create competitor pages on your website, you can search for queries containing "vs.".
And GSC will provide you with a list of relevant keywords you can explore.
Here is an example…
As you can see, when people searched for some of these queries, we ranked for them.
Although most of these keywords aren't relevant to us, this gives you an idea of how you can do the same for your SaaS.
Pain Point Content Examples You Can Learn From
Ready to get started?
Here are some great examples of SaaS brands using this SaaS content writing strategy to compete and dominate their industries.
How Chanty Took on Slack and Other Competitors By Understanding Its Users' Pain Points
Chanty is a team communication and collaboration software. They help business owners and their team members communicate and collaborate effectively to complete their tasks. One of their biggest competitors is Slack, recently acquired by Salesforce.
When you mention team communication and collaboration, Slack is the first name many people remember. So, how exactly can a smaller competitor like Chanty become known in a Slack-dominated market like this?
The Chanty team leveraged the power of pain-point content and ranked for Slack-related keywords on Google.
For instance, if you Google "slack alternatives," they're currently ranking on the number 2 spot in the SERPs after Hubspot.
And when you click on it, you'll be redirected to a page that looks like this.
As you can see, they highlight the pain-point of their audience in the introduction and mention their tool as a Slack alternative.
Another example is when you Google "slack pricing," where they currently rank number 3 after Slack.
If you click on the link, here's what Chanty's page about slack pricing looks like.
Here, they provide factual information about Slack and why they are one of the most successful SaaS businesses globally. Then, they highlight the biggest problem most teams have with Slack: the price.
Afterward, they mentioned why they're interested in Slack pricing, with a quick call to action to try out their software.
They also do this for other competitors aside from Slack.
If you Google "skype alternatives," you'll see that Chanty ranks number 3 on the SERPs for that keyword.
And here's what their introduction on the page looks like. As you can see, anyone who stumbles on the post knows that Chanty is a Skype competitor.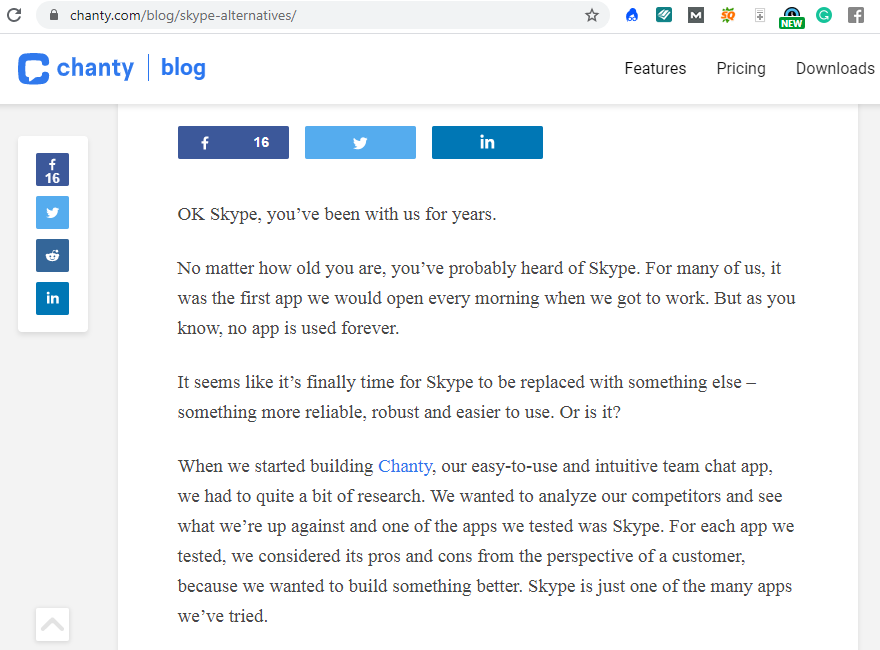 That's not all…
They also target broad keywords related to their industry. For example, the company ranks number 2 after Zapier for the keyword "best team chat apps."
Here are some other competitors related keywords they're ranking for:
Ranking number 2 in the SERPs for "Discord vs. Slack."
Ranking number 1 in the SERPs for "Asana vs. Slack."
Ranking number 1 in the SERPs for "Slack vs. Microsoft teams."
And the best part…
These pages drive targeted traffic and rank for tons of keywords on Google.
Take the "slack alternative" keyword as an example. According to SEMrush, it currently brings in an estimated 1,600 organic traffic visitors per month and ranks for about 900 keywords.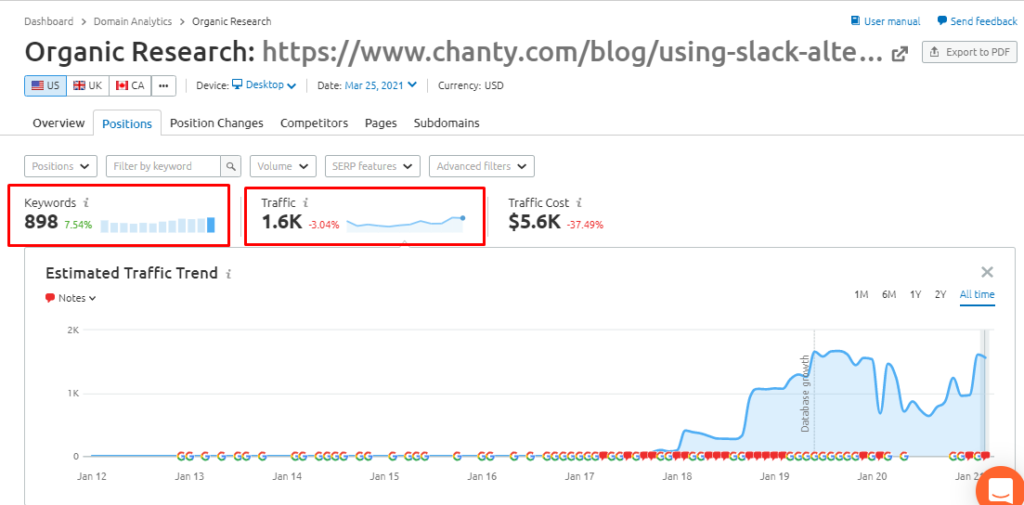 As you can see below, it also ranks high for competitive keywords like:
"slack competitors"
"free slack alternative"
"slack vs"
Chanty has dominated the SERPs for these pain-point keywords in the team collaboration niche.
An SEO Moat like this makes them top of mind for businesses that want to ditch their biggest competitors.
How Podia Smartly Uses Comparison Pages to Dominate the SERPs in a Competitive Industry
Podia is an all-in-one platform for selling courses, ebooks, and downloads. It's in a competitive industry with companies like Clickfunnels, Kajabi, Kartra, Teachable, Thinkific, Gumroad, etc.
Most of the companies they're competing with are household names that have built a reputation.
One thing that makes Podia stand out among its competitors is its investment in pain point content marketing. They understood pain-point content's importance and used it as a competitive advantage.
For example, if you Google "Kajabi alternative," you'll see that Podia ranks number 3 on the SERPs.
If you search for "Thinkific alternative" on Google, Podia ranks number 1 on the SERPs after the Ads.
The same thing happens if you Google "Gumroad alternative," where Podia ranks number 3 on the SERPs.
For "Teachable alternative," they currently occupy the top spot for that keyword.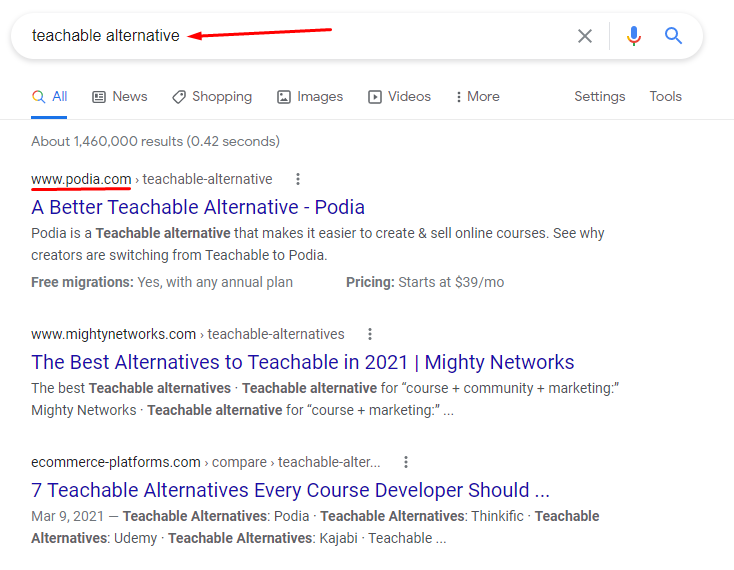 If you also Google "Kartra alternative," they occupy the number 3 spot in the SERPs for that keyword.
As you can see, Podia positions itself as a great alternative to its competitors and ranks on Google for those keywords by creating pages for it.
And when you check these comparison pages by Podia, you'd find something that looks like this:
Most people searching for alternative or comparison keywords like these want to make a purchase decision. So, Podia beautifully designs its pages with a table that shows exactly what separates them from its competitors, which can help prospects make a buying decision fast.
Another intelligent move by Podia which I like is that they created a page on their website for "podia alternatives" and currently rank number 2 on Google for the keyword.
This helps them beat their competitors who might likely want to rank for that keyword to the game early.
When you check that page, you'll see that they've compiled all their comparison pages in one place.
As you can see, despite being in a highly competitive market, Podia ranks on the SERPs for pain-point keywords that their target audience most likely searches for. And this will help them to get more user signups and customers.
What do SaaS startups stand to gain business-wise by creating Pain Point Content?
You can fast track the content marketing process because you're meeting an immediate need. Sometimes the keywords with the highest volume don't have a lot of buying intent. Pain point keywords and bottom-funnel keywords may not always have the best search volume, but indicate a higher level of interest and intent.

Josh Spilker, Head of Marketing, Friday
Drive More Free Trial and Freemium Signups For Your SaaS Startup With Pain Point Content Marketing
If you're a SaaS startup founder or marketer, you most likely want to acquire user signups and paying customers directly from your SEO investment.
To achieve this, focus on pain point content marketing.
The reason is simple…
With this SEO strategy for SaaS startups, you're solving a specific pain point that your prospects and customers have.
And when you do, they'll know, like, and trust your brand.
In the long run, they'll sign up for your product (if they like it) and tell others about it.
At Your Content Mart, we help early-stage B2B SaaS companies acquire more users and increase revenue using ROI-driven content marketing. If you'd like us to use our "5 phases" framework to grow your startup with content marketing, schedule a free discovery session to see if we're a good fit.