In January 2021, Signaturely entered the $25 Billion e-signature industry.
The bootstrapped startup founded by Will Cannon competes against well-funded and publicly-traded companies like Adobe Sign, DocuSign, Pandadoc, and Hellosign, who have raised over $611.8 Million in combined funding.
| | | |
| --- | --- | --- |
| Tool | Date Founded | Total Funding Raised |
| Adobe Sign | 2006 | $8.5 Million |
| Docusign | 2003 | $536.2 Million |
| Pandadoc | 2011 | $51.1 Million |
| Hellosign | 2010 | $16 Million |
| Signaturely | 2021 | $0 |
Twelve months after launch; the early-stage SaaS startup has achieved the following:
Acquired 30,000+ user signups
Generates 226,000+ organic traffic visitors monthly
Ranks for 40,000+ organic keywords
Listed on Capterra as the #2 eSignature provider behind Docusign in 2021.
How?
By focusing on SEO from day one.
This post is a deep dive into how Signaturely got these impressive results despite being an underdog in a competitive niche. Plus, how you can achieve the same for your early-stage SaaS startup.
Let's dive in.
Strategy #1: Attract Problem-aware Visitors With a Simple (Free) Tool
Most startups think that content marketing is about writing blog posts alone.
But guess what?
It isn't.
Here is the truth…
There are tons of content marketing and SEO playbooks you can use to get results for your SaaS startup without writing articles.
Signaturely understood this and leveraged it to succeed in a competitive niche.
Here's what they did:
They built a simple "Online Signature Maker" tool and made it free.
Yes, you read that right!
Before we delve into the specific strategy they used in this case, here's something worth mentioning.
The free tool isn't unrelated to the product. It's an irreplaceable aspect of what the software does.
Here's how…
Signaturely helps users sign documents online. And before you can sign a document electronically, you need an online signature.
This is where the free tool comes in.
With it, anyone can easily create and/or draw their signatures online. Once done, you can download and keep it for future references and use.
As you can see, the tool shows problem-aware visitors a glimpse of what they stand to gain from using the paid software even before becoming users.
Now, let's get to the numbers:
According to Ahrefs, the keyword "online signature maker" has a monthly global search volume of 19,000.
And guess what?
Signaturely ranks number 1 on Google for this high-intent keyword.
And even competitors like Signhero and Docusign are bidding for this keyword.
Here are some figures from Ahrefs highlighting how investing in this free tool has paid off for Signaturely.
Earned over 3,000 backlinks from 420 websites
Ranks for over 12,000 keywords
Brings in over 180,000 organic traffic visitors.
Worth about $370,000 in traffic value.
Aside from this, it also ranks for other "high-intent" keywords with a reasonable Cost Per Click (CPC) as shown below:
| | | | |
| --- | --- | --- | --- |
| Keyword | SERPs Position | Global Search Volume | CPC |
| Online signature | 2 | 6,000 | $11 |
| Signatures | 1 | 15,000 | $8 |
| Signature maker | 1 | 9,600 | $5 |
| Online signature generator | 2 | 1,700 | $8 |
| Free signature generator | 3 | 1,600 | $9 |
| Signature creator | 2 | 6,700 | $5 |
| Electronic signature generator | 2 | 600 | $13 |
| Create online signature | 2 | 700 | $12 |
| Digital signature creation | 2 | 600 | $17 |
| Make a signature | 2 | 2,100 | $5 |
Now let me show you how Signaturely used SEO to get the amazing results that it does with this tool.
How Signaturely Positioned The Free Tool To Get SEO Results
From the homepage, you're presented with two options; to draw or type your signature.
Each of these options is:
Search-engine optimized
Targets a specific keyword
Positioned to rank on Google.
Take the first option as an example.
When you click on the draw your signature button, it redirects to a new URL: "https://signaturely.com/online-signature/draw/"
"The title of that page is: "Draw your online signature | Signaturely"
Optimizing this page for SEO has helped it to rank high for a variety of similar keywords like:
Handwritten signature generator
Create a handwritten signature
Handwritten signature maker
Handwritten signature creator
Online handwritten signature generator
The same scenario plays out with option #2.
It redirects to a URL structure that looks like this: "https://signaturely.com/online-signature/type/"
And the title of this page is: "Type your online signature | Signaturely"
Just like the first option, optimizing this second cluster page helps the main page (free tool) ranks for other keywords like
Write my signature
Type name as signature
Type signature online
Write my signature electronically
How to write your name as a signature
So, how does this online signature maker work?
First, it has a simple and easy-to-use interface.
Here's what the first one looks like:
You can easily draw, edit, and download your signature here.
Which can be done within a few minutes.
Here's what the interface of the second option looks like:
In this case, you can easily type, edit, and choose your writing type here.
The only difference is that there isn't any download option until you type the signature.
Here is what I mean…
I'm sure you're probably wondering.
But this is a free tool, so how are they acquiring user signups from it?
Here's how!
How Signaturely Drives User Signups From a Free Tool
Here's how Signaturely does that smartly.
There are two Call to Actions (CTAs) boxes above and below the fold from the free tool's homepage.
Here's what the one above the fold looks like:
Here's the second one below the fold:
The copy is compelling and subtly prompts anyone using the free tool to create a Signaturely account for free.
Also, there's a CTA box below the fold on the cluster pages where the user can draw or type their signature.
This is exactly what it looks like:
Here's where it gets exciting…
Immediately after downloading your signature, another CTA pops up.
Here is what it looks like…
The Signaturely team understands that if you don't tell prospects what to do next, chances are that they won't.
For a free tool that gets about 180,000 visitors every month, these CTAs will help to convert a large chunk of them into user signups and paying customers.
Let's say they were able to convert about 5-10% of these problem-aware visitors into user signups every month. That means they'll end up with about 900-1,800 user signups monthly.
And if they successfully convert about 10% of these signups into paying customers, that adds up to around 90-180 paying customers per month.
Key Takeaways:
Building a valuable free tool for problem-aware visitors is an effective SaaS content marketing strategy for generating qualified traffic, driving user signups, and getting paying customers.
Build a tool that's related to your product's core offering: Most startups create a free tool because others are doing it. That's a recipe for failure. If you want to drive results from your free tool, make sure it is an extension of your paid tool. Just like Signaturely, Coschedule did the same thing with the headline analyzer tool, which is one of their biggest content marketing investments to date.
Optimize the tool to target specific keywords: Creating a free tool is an SEO strategy. So, optimize the page, just as you would normally do to a blog post. That way, you can rank high on Google for keywords that your target audience is searching for.
Make sure that the tool is simple and easy to use: First impression, they say, last longer. Most users will judge your paid software based on the experience they had using the free tool. So, make it easy and fast for them to use, understand, and get an aha moment.
Leverage relevant CTAs to drive user signups and paying customers: The fact that you've built a free tool doesn't mean that users will automatically upgrade. Use relevant CTAs in strategic places, to tell them exactly what they should do next and how.
Strategy #2: Solve Your Target Audience's Pain Points By Creating Relevant Templates
This is another SEO strategy that Signaturely leveraged to drive qualified traffic and signups for the software.
It is amazing because it ties back to the specific pain point that the tool solves. Which is to help anyone sign documents, proposals, contracts, etc. online.
Truth is…
Most people who want to sign documents and contracts online don't know how to get started.
So, what do you think they'll do?
Search Google for templates related to the proposal or contracts they want to sign.
Here's an example…
Let's say an SEO agency owner just closed their first deal.
The next step will be to send over a contract to the client to sign.
But guess what?
If they're just starting, they'll most likely not have any template to use.
So, what do you think this agency owner will do next?
Simple.
Head over to Google and search for queries like: "SEO agency contract template."
If they find one they love, they'll go ahead and download it immediately.
This is where this strategy by Signaturely comes in.
How Signaturely Uses Free (and Relevant) Contract Templates To Attract Its Target Audience
Signaturely built a repository of free contract templates that their readers can download, use, and tweak across different industries.
Right now, they have over 40 free contract templates on the website.
These include
Internship contract agreement
Coaching agreement
Independent contractor agreement
Video production proposal
Month-to-Month rental agreement
Wedding photography contract
SEO proposal agreement
Employment contract agreement
Sales contract
Marketing agreement
Here are some impressive results from these contract templates, according to Ahrefs:
Acquired over 7,600 backlinks from 797 referring domains.
Ranks for over 21,000 keywords on Google.
Generates around 34,000 organic traffic visitors monthly.
Costs around $46,000 monthly if they were to use PPC.
And guess what?
They're ranking high on Google for these high-intent keywords.
Here are some examples:
Ranking number 2 for the keyword "free contract templates", which has a search volume of 1,500 per month, and a CPC of $2.
2. Ranking #1 for the keyword "Roofing contract template", which has a monthly search volume of 600 and a CPC of $3.50.
3. Ranking #1 for the keyword "Marketing contract template", which has a monthly search volume of 700, and a CPC of $3.50.
4. Ranking #2 for the keyword "Graphic design contract template", which has a monthly search volume of 1000, and a CPC of $3.50.
5. Ranking #2 on Google for the keyword "event contract template", which has a monthly search volume of 700 and a CPC of $2.
Now, to the most interesting part…
How Signaturely is Driving User Signups From Templates Pages
Using the consulting agreement template as an example.
When you land on the page, you'll see a hero section that looks like this:
From this section, you have the option to download the template either as a word document or PDF file.
When you click on any of the buttons, you'll be redirected to a popup that looks like this.
For Word Document:
For PDF: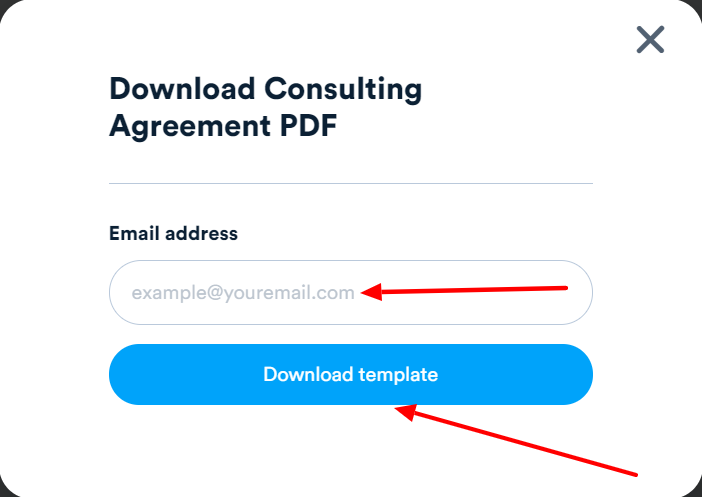 To download the specific template, simply enter your email address and click on the download template button.
Once you do, a new page opens up immediately which looks like this:
The goal of this page is simple…
Prompt anyone who downloads the free template to sign it easily using the software.
It also offers them the opportunity to sign the first 3 documents for free.
For someone who has just downloaded a relevant template for their business, this is an easy upgrade.
While it's not possible that everyone who stumbles on these template pages signs up to try out the software. A sizeable percentage of them will.
Even if some of them don't, they'll know that Signaturely exists, what it does, and probably check it out in the future.
Key Takeaways:
Help your audience get their jobs done faster with free templates: Think about a specific job that your user is most likely struggling with. Then, create a template that helps them to do it.
Use a subdirectory to house the templates: When you do, it makes it easy for anyone to access it.
Optimize the template pages to rank on Google: Each template page should target a specific keyword that people are searching for.
Make it easy and seamless for the reader to download templates: Most templates are gated, making it difficult for the reader to download. Using an ungated template will most likely perform better from a conversion standpoint. Even if you want to gate a free template, don't ask for too much information from the reader.
Use CTAs to convert cold visitors into user signups: Don't assume that the reader knows exactly what to do after downloading your template. If you want them to sign up for a free trial of your software, tell them to do so with a CTA.
Strategy #3: Become Top of Mind In The Industry By Writing About Top Competitors
The esignature niche is highly competitive.
Some of the well-known brands in this niche include:
Hellosign
Docusign
Pandadoc
Adobe Sign
Sign Now
Instead of complaining, Signaturely turned this into an advantage.
How?
By creating competitors' comparison pages.
This is different from the typical comparison pages, where you compare your solution against a competitor.
Here, they're comparing one top competitor against the other.
This is a smart SEO strategy for an early-stage SaaS startup if you ask me.
The reason is simple…
Signaturely is an underdog in this niche. Chances are that most people aren't comparing them to top competitors yet.
A quick Google autosuggest search confirms this:
As you can see, there isn't any search output showing that people are comparing Signaturely to its top competitors.
On the other hand, if you search something like "Docusign vs", here's a list of auto-suggested keywords according to Google.
As you can see, people are actively comparing Docusign to other top competitors like Adobe sign, Hellosign, Pandadoc, Dotloop, Signnow, etc.
To capture an existing demand, Signaturely can go after these competitors' comparison keywords instead.
And that's exactly what they did.
By leveraging this strategy, they've been able to rank for some of their top competitor's branded keywords.
Here are some examples.
If you search the keyword "Docusign vs Adobe Sign", which has a monthly search volume of 2,900. They're currently occupying the top spot (featured snippet) on the SERPs for it.
If you search the keyword "DotLoop vs Docusign" which has a monthly search volume of 800, they're currently ranking in the 3rd position for it on Google.
Here's what happens.
Anyone searching these competitors' comparison keywords on Google is exposed to Signaturely.
Even if they don't check them out now, they'll be aware that it exists.
And in the long run, if they want to switch from the current tool they're using, they'll probably check them out.
Right now, Signaturely only targets five (5) of these competitors' comparison pages.
I strongly believe that there is a huge opportunity for them if they go after more competitors' comparison keywords.
Key takeaway:
Creating competitors' comparison pages is a great way to gain mindshare and become top of mind for prospects in a competitive niche.
A Missing Opportunity? How Signaturely Can Get More Results From Existing Alternatives Pages
Signaturely has created alternative pages comparing their solution to other products like:
DocuSign
Hellosign
Pandadoc
They positioned these pages as a comparison between them and their top competitors, which helps prospects see how they differ from one another.
While this is generally good, I believe an opportunity exists if they can flip these alternative pages.
Here is why…
There's a difference between someone comparing two products, and someone looking for an alternative(s) to a product.
For the former, the searcher is weighing two or three options to see which one is best and most likely in the mood to make a buying decision.
For the latter, the searcher is looking for a list of alternatives they can try out, and not just comparing two products.
Here is a quick example to buttress my point…
If you search Google for "Podia vs Clickfunnels", you'll see Podia ranking on the top position for this keyword.
Now if you flip the query, and search for "Clickfunnels alternative" or "Clickfunnels alternatives", Podia is nowhere to be found on the first page of the SERPs.
As you can see, the top results on the SERPs are listicles mentioning the different alternatives to Clickfunnels.
The simple explanation for this is…
The search intent for the "alternative" keyword is different from the search intent for the comparison ("vs") keyword.
While it's possible to target these two keywords variations with the same page and rank high for it, it's not so in most cases.
The same scenario plays out with the alternative pages that Signaturely has built.
If you search Google for "DocuSign alternative", Signaturely isn't ranking on the first page.
Similarly, if you search "Hellosign alternative", you'll observe a similar trend.
As you can see, most of the top-ranking pages are listicles mentioning the different alternatives to a specific product.
While there are some pages not doing so, those are exceptions and not the rule.
Here is my recommendation to the Signaturely team…
Create separate articles for the comparison and alternatives keywords. That way, you meet the search intent and stand a better chance of ranking high on Google for them.
Final Thoughts: SEO Works For Early-stage SaaS Startups In Competitive Niches If Done Right
Convincing people to choose your software over a well-known brand in a $25 billion industry is challenging. Taking an early-stage B2B SaaS startup from 0 to 30,000+ user signups within 12 months is impressive. This is exactly what Signaturely has done by focusing on SEO from day one.
Signaturely has shown that SEO works well for early-stage SaaS startups if done right. If you can think outside the box, and not expect immediate results, you can get impressive results even in competitive niches.
Of course, it'll be difficult to replicate the exact SEO strategy and get the same results for your company. That said, you can take inspiration from some of the impressive things they've done and apply these principles and tactics to attract qualified traffic and drive user signups for your SaaS startup.
Want to implement and achieve similar feats for your SaaS startup?
We got you covered.
At Your Content Mart, we help early-stage B2B SaaS companies acquire more users and drive revenue from content marketing using ROI-driven content marketing.
You can schedule a 30 minutes free discovery session with our Lead Content Strategist to see how we can fuel your company's growth using content marketing.