In 2010, Garrett Moon and Justin Walsh co-founded Todaymade, a web development agency based in North Dakota. While running the agency, they discovered that most of their clients find it challenging to effectively manage their social media and editorial calendar.
This pushed them to build a marketing software solution, and by March 2013, Coschedule was born.
Eight years after launching the company from the Peace Garden State, they've achieved the following.
Raised $2.5 million in total funding.
Listed three consecutive times on Inc. 5000 as one of the fastest-growing marketing platforms in the world.
Mentioned as a leader in the Gartner Magic Quadrant for Content Marketing Platforms in 2020.
Recognized by G2 as a high performer for the 14th consecutive quarter.
In this teardown, we'll be diving deep into how Coschedule applied the blue ocean strategy into their marketing program, growing their business from 0 to 10,000+ customers and generating over 7 figures in ARR. This guide will show you how to build an efficient and scalable SaaS marketing strategy that cuts through the noise.
The key takeaways include:
What the Blue Ocean Strategy entails
How to create competitor-free content
How to grow an email list of thousands of subscribers using content upgrades and downloadable templates
How to use free tools to drive user signups and attract paying customers
How to drive qualified traffic from Pinterest
How to turn a marketing challenge into a growth opportunity
A low-hanging fruit that Coschedule has overlooked
Ready?
Let's dive in.
Prefer to download this article to your device? and we'll send the PDF version to you via email for free.
What is the Blue Ocean Strategy?
The Blue Ocean Strategy, written by Chan Kim and Renee Mauborgne, is a phenomenal book that delves into making one's business stand out from the competition.
One of the most compelling arguments from the book is the concept of red ocean strategy vs. blue ocean strategy. The authors believe that the water (market) is bloody with the competition. Yet, most people focus on the existing market because it's proven to have demand.
They recommend that you must take yourself out of the red zone using the blue ocean strategy. That way, you make the competition irrelevant and create and capture new demand in uncontested market space.
Garrett Moon talks about how Coschedule used the Blue ocean strategy in their marketing:
As you can see, CoSchedule leveraged the Blue Ocean Strategy to differentiate its marketing among other popular marketing blogs out there. So, if you're a SaaS company looking to stand out in your niche, then you should take a page from their book. I'll show you behind the scenes of Coschedule's competition-free content strategy in this teardown and walk you through exactly how to replicate that for your company.
Let's dive in…
Strategy #1: Create Blog Posts Focused On A Niche To Unlock Long Tail Traffic
In a recent post, Nathan Ellering – Head of Marketing at Coschedule, mentioned that the company's blog got around 6.6 million organic traffic visitors from Google within 16 months.
This means that on average, Coschedule gets around 412,500 monthly visitors from organic search alone. Of course, this was more than six months ago, so things would have changed at the time of publishing this post.
Now, let's walk you through exactly what they did to achieve this impressive result.
1. Focus on a Specific Niche (aka Marketing)
The Coschedule Marketing Blog focuses on serving one niche alone: marketing.
Positioning the blog for marketing professionals helps them in a lot of ways.
One, they can produce the best content tailored to marketers.
Two, they could establish topical authority with Google. That way, whenever they publish any piece of content, they're most likely to rank faster and higher.
Three, they're able to stay top of mind with their target audience. Since they write about marketing topics only, readers know what to expect whenever they visit their blog.
Key Takeaway:

Focusing on a specific niche with your SaaS company's blog helps you solve the pain points of your target audience better and make you stand out compared to the competitors.
2. Perform In-depth Keyword Research
Some months ago, I sent a pitch to write a guest post for Coschedule, and their former inbound marketing director did not approve it initially because it has low search volume on Ahrefs.
What does this show?
As part of Coschedule's content strategy, they perform keyword research before creating any piece of content, including guest posts.
And in most cases, they go after mid to high-volume keywords.
Now, let's analyze some of the keywords that Coschedule targets.
Take the article about blog post ideas currently occupying the featured snippet as an example. According to Ahrefs, the global search volume for that keyword is around 3,400.
Another post that they're ranking high for on Google is the one about the best time to send an email.
The search volume for that keyword right now is around 2,000 per month, with a CPC of $11.
Performing keyword research before publishing any content helps them in many ways.
One, they write about topics that their target audience of marketers is already interested in.
Two, they position themselves as an authority in the marketing industry. They compete with other well-known brands on the SERPs by going after these high-volume keywords.
Three, it helps them target "evergreen" keywords that have the potential of driving business results in the long run.
Let me quickly mention here that if you're an early-stage B2B startup, targeting high-volume keywords, especially in competitive niches, might not work well for you.
Key Takeaway:

If you want to generate organic traffic from your SaaS blog, always perform keyword research before publishing any piece of content.
3. Publish Long-form Informational Content and Detailed How-To Guides
We analyzed the top 10 ranking pages on Coschedule and found that the average length of a content piece on their blog is 4661 words. That is not a coincidence.
It's a deliberate strategy to consistently produce better content than anything else out there on any topic.
According to the company's Head of Marketing, focusing on long-form content has worked well for them so far, and they're going to continue with it.
Take the blog post ideas article as an example, which is about 10,000 words long.
That's a lot of content for just one single piece.
The article about "how to write case studies" is around 6000 words long.
The research about the best time to send an email is around 5500 words long.
Creating long-form content is a secret weapon of successful content marketing programs. Several studies have shown that you can drive more traffic, acquire more traffic, generate more shares, and get better results by focusing on it.
In its analysis of 912 million blog posts, Backlinko found that content pieces over 3000 words get an average of 77.2% more referring domain links than content shorter than 1000 words.
While analyzing the top-performing articles in its database, SEMrush discovered that articles longer than 7,000 words drive almost 4 times more traffic and 43% more shares than articles between 900 – 1200 words.
The 2021 annual state of blogging report by Orbit Media also shows that there is a direct correlation between content length and results. According to the survey, bloggers who publish articles longer than 3000 words report 36% more results than those who don't.
For Coschedule, focusing on long-form content helps them rank for more keywords, acquire more backlinks, and drive more organic traffic visitors than competitors.
Take the "blog post ideas" piece as an example. Here is the scorecard from that post alone:
Organic Visitors: 2375
Number of Keywords: 1620
Backlinks: 2,666
When you compare this result to the website that comes close on the first page of the SERPs for this keyword, you'll see that Coschedule outperforms it. It only generates 1486 organic traffic visitors, ranks for 523 keywords, and has acquired 160 backlinks.
Key takeaway:

Producing long-form actionable content should be a priority if you want to outrank your competitors on the SERPs and educate your audience better.
4. Use Branded Visuals To Stand Out Vs. The Sea Of Stock Images
Designing custom images and infographics for each piece of content is another way that the Coschedule blog stands out.
This is because they make the articles visually appealing and easy for the reader to read and understand.
Doing this for each blog post is helpful in a lot of ways:
It makes the reader's experience memorable.
For a reader who stumbles upon a custom image anywhere, it'll be difficult to forget the concept behind them. As it's said, "A picture is worth a thousand words."
Helps with the company's brand building.
Coschedule embeds its logo in the custom images. This simple addition imprints the company's name in the minds of anyone who comes across it.
It helps them to earn more backlinks.
Infographics and images attract backlinks. As more websites and blogs reference them in their articles and essays, they'd most likely link to the source.
Here is an example from an infographic for the best time to send an email. As you can see, this infographic clearly outlines the results from the findings. So, the reader knows what to expect from the complete research.
Even though Coschedule currently occupies the number 3 spot for this keyword, they've acquired more backlinks than the top 9 results on the SERPs.
According to Ahrefs, Coschedule has acquired 2,566 backlinks from about 1,228 referring domains for this article. The other website on the SERPs that comes close has only acquired 940 backlinks from 435 referring domains.
Key Takeaway:

Designing custom images and infographics for your blog posts will make your SaaS brand memorable to your readers and help you acquire more backlinks.
Want the free PDF version of this teardown piece? and we'll send it to your email as soon as possible,
Strategy #2: Rank for High-volume and Competitive Keywords By Doing Something Different
How do you rank for a competitive keyword with a global search volume of 157,000?
Most people will go after the head term and try to compete against other well-known and established websites in the industry.
In the case of Coschedule, they did something entirely different from what other websites on the SERPs were doing.
Which is…
They leveraged the topic cluster strategy to establish authority fast, rank for multiple keywords, acquire more backlinks, and drive organic traffic.
Here's an analysis of what they did in this case.
The head-term keyword that Coschedule targeted with this strategy is "Marketing Strategy."
So, instead of creating just one page targeting the head term, they created multiple (cluster) pages targeting keywords related to the main keyword.
The guide's home page (the pillar page) outlines precisely what the reader should expect from reading the guide.
The reader will understand what a marketing strategy entails from the home page, even if they didn't read all the chapters in the guide.
There is also a sticky navigation page on the right-hand side of the home page, linking to other chapters in the guide (which are the cluster pages).
Below are the topics for each cluster page and the target keyword for each.
| | |
| --- | --- |
| Cluster page topic | Target keyword |
| Understanding the Competition With a SWOT Analysis | SWOT Analysis |
| Getting to Know Your Audience and Customer Base | Marketing Persona |
| How to Run a Competitive Analysis to Best Understand Your Market | Competitive Analysis |
| How to Put Together a Marketing Budget Plan You Can Track | Marketing Budget |
| How to Define Your Unique Brand Voice and Stand Out | Brand Voice |
| How to Understand the Marketing Funnel and Create Content Customers Need | Marketing Funnel |
| How to Set SMART Marketing Goals You Can Achieve | Marketing Goals |
| How to Select Marketing Channels That Drive the Best Results | Marketing Channels |
| 35 Marketing Tactics That Work (And How to Plan Them) | Marketing Tactics |
| How to Select Marketing Metrics and KPIs to Prove Your Strategy Works | Marketing Metrics and KPIs |
| How to Plan a Marketing Calendar That Actually Works (Template) | Marketing Calendar |
| How to Turn Marketing Strategy into Marketing Execution in 8 Steps | Marketing Execution |
As you can see, each of these chapters targets a specific keyword related to marketing strategy.
Right now, they rank on the bottom of the first page of Google for the head term "Marketing Strategy."
But guess what?
They're ranking in positions 1-3 with some of the cluster pages they targeted with this strategy.
Here are some examples:
The keyword "Marketing Goals" has a monthly search volume of 5,400 and a CPC of $11, according to Ahrefs. Coschedule ranks in position #2 for that keyword, with one of the chapters in the Marketing Strategy Guide.
The keyword "Marketing Tactics" has a monthly search volume of 10,000 and a CPC of $5. Coschedule ranks in position #2 of Google for that keyword, with one of the chapters in the Marketing Strategy Guide.
Marketing Calendar is another keyword that Coschedule ranks for with this guide. The search volume for that keyword is around 8000 per month, with a CPC of $11. They occupy the number 3 position for that keyword. They also outrank bigger competitors like SEMrush.
As you can see, Coschedule uses the topic cluster strategy to rank for tough keywords and outrank top competitors in their niche.
The best part…
Using the topic cluster strategy now means that they rank for more keywords and drive more organic traffic visitors than other competitors targeting the same keyword.
Here's a quick breakdown of the search scorecard for the top 4 websites ranking on the first page of the SERPs compared to Coschedule.
As you can see, Coschedule ranks for more organic keywords than any of the top 4 competitors on the first page of the SERPs.
That's not all…
Aside from Investopedia, which currently drives over 57,000 organic traffic visitors with this keyword, the Coschedule marketing strategy guide generates around 14,700 monthly visitors from organic traffic, with a traffic value of $27,800.
Key takeaway:

Leverage the topic cluster strategy to rank for high-volume and competitive keywords in your niche.
You can download the free PDF version of this teardown piece. , and you'll get it in your inbox as soon as possible.
Strategy #3: Use Gated Resources To Acquire Email Signups at Scale
As of May 2019, Coschedule's email list had over 880,000 subscribers, according to the co-founder.
To achieve this, they positioned every single piece of content as a strategic tool to grow their email list. Hence, they never publish any blog post where the reader cannot download a valuable and helpful gated resource to help them resolve a challenge they face.
Examples include templates, worksheets, pre-made spreadsheets, ready-to-use slide decks, etc.
To acquire leads using this strategy, they gated these insanely valuable upgrades behind a simple form.
Before breaking down how this strategy works, here are ways that Coschedule leverages it to grow their brand:
Educate and build trust with their audience.
If you just downloaded the template above, what impression would you have of their brand? Of course, you'll trust them more, isn't it? That's one of the advantages of creating a valuable template for each piece of content you create on the blog.
Establish rapport and relationship with first-time readers.
Here's a fact. People need different touchpoints before deciding to sign up for your SaaS product.
Coschedule adds anyone who downloads the content upgrades to their email list to achieve this. This helps them keep in touch and probably convince them to purchase in the future.
Get more user signups and paying customers.
Coschedule includes relevant Call To Actions (CTAs) in the templates, prompting the reader to sign up for a 14-day free trial of the product.
Here's an example from the social media calendar template.
And once you click on the link, you'll be redirected to the signup page, which looks like this:
While some who download the templates might not sign up for a free trial, others will, which is a huge win for the company.
Now let's delve into how this strategy works.
Take this post about "How to Increase Blog Traffic" as an example.
Before the Table of Contents, there's a section for the reader to download templates to increase their blog traffic.
If the reader clicks on the "Download Now" button, they'll be redirected to enter their details on a form, get the templates, and join an email list.
After entering your details on the form, you'll automatically download the templates (in this case, a zip file) to your computer. You'll also get a prompt that looks like this.
Here's what the downloaded templates look like:
This template includes the following:
180 emotional words list (PDF file)
Content outline template (Microsoft Word Document)
Editorial calendar template (Excel file)
These templates are helpful and valuable for anyone looking to get more traffic to their blog.
Here's what's included in the content outline template.
This helps the reader create a content outline for their blog, even if they've never done so before.
As you can see, Coschedule isn't positioning itself to get more email subscribers with content upgrades and downloadable templates only. Instead, they want to help and add value to their readers genuinely.
Key takeaway:

To acquire email signups from your content pieces, create valuable and helpful content upgrades and downloadable templates.
Strategy #4: Turn The Company's Biggest Challenge Into a Growth Opportunity
Coschedule's initial focus was to get more blog traffic and increase their email list. This was successful as they built an enviable blog and a massive email list.
This success became a big challenge for the company afterward.
In this interview on Databox, the company's former Inbound Marketing Director – Ben Sailer, mentioned that they realized that the previous company's goal wasn't enough to grow the business.
Here's what they did to change this narrative and get better results.
Step 1:
Identify the blog posts that have a close connection with the company's solutions. The core products of the company include:
Marketing Calendar
Headline Studio
Marketing Studio
Actionable Marketing Institute
Step 2:
Promote these products in relevant content pieces, where they won't sound salesy to the reader.
Here are some examples:
In the piece about "Annual Content Calendar Template," they show the different use cases of the Marketing Calendar.
As you can see, the reader can visualize exactly what they'll get from the product after signing up. This makes it easy for them to sign up for a free trial.
This post about "How To Plan a Marketing Campaign" highlights different features in Coschedule's Marketing Suite.
What do you think will happen for a CMO reading this article and planning their next marketing campaign? They'll check out Coschedule to see if it can work for them.
This post about "How To Write a Headline" shows the reader what creating data-driven headlines using the Headline Studio looks like.
If you want to create better headlines for your content and come across a piece like this, you'd likely sign up for headline studio, isn't it?
This concept is what we refer to as product-led content at Your Content Mart, and it's one of the strategies we leverage to get business results for our clients directly from content.
For Coschedule, this strategy helped them to increase signups and trials from content by 30%.
Prefer to download the PDF version of this article? , so you can get it for free in your inbox as soon as possible.
Strategy #5: Use Free Tools to Drive User Signups and Build A Content Moat
Do you know the biggest driver of growth for Coschedule in the last seven years?
If you said anything else aside from the Coschedule Headline Analyzer, you got it wrong.
In several interviews and podcasts, the company's co-founder alluded to this fact. According to him, the free headline analyzer tool helped the company in the following ways:
It brought the right traffic.
Coschedule is a tool for marketers. Chances are that anyone searching for a headline analyzer is a marketer looking to improve their headlines.
Since it helps in writing better headlines, it ends up being exactly what their ideal target audience of marketers is looking for.
Useful to the company's core demographic.
Coschedule targets marketers and wants them to use its software. Since the headline analyzer is helpful to them, it made them want to know more about the software.
Converts people who try the free tool into paying customers.
There's a limit to what the headline analyzer can do. So, Coschedule has a paid version of the tool called the headline studio. Most people who try the free tool and find it helpful would likely want to upgrade into a paying customer.
Now, let's analyze how Coschedule uses the headline analyzer to drive user signups and paying customers.
Before then, is anyone searching for "Headline Analyzer" on Google?
Well, the answer is "Yes." The global monthly search volume for the keyword is around 10,000.
This translates to around 112,800 searches every year.
That's a lot of demand for a high-intent keyword and presents a huge opportunity for any brand that leverages it.
As you can see, Coschedule occupies the top position on Google for this keyword.
Ahrefs estimates that this page gets around 5,000 organic traffic visitors from Google every month. This translates to 60,000 organic traffic visitors to this free tool every year.
Here's how Coschedule uses the headline analyzer to acquire user signups and paying customers.
The first section of the Headline Analyzer tool looks like this:
Once you enter the headline you want to analyze and click on the "Analyze Now" button, you'll be redirected to a new window that looks like this.
The goal of this page is simple. First, convert anyone who wants to use the tool for free to create an account for the headline studio (aka user signup).
Once you sign up, you'll be redirected to the dashboard, with a full analysis of your headline.
The headline studio dashboard shows the headline score and offers suggestions on how to improve it.
From this dashboard, Coschedule tries to convert trial users into paying customers.
This is how they do it:
First, the free Headline Studio allows you to analyze three headlines only.
So, the number of remaining free trials is shown in the top right corner of the dashboard.
There's also a call to action (CTA) on the top of the dashboard, prompting the user to upgrade to a premium account.
To continue using the tool after the free trial expires, you'll have to upgrade your subscription.
As you can see, Coschedule uses the free headline analyzer to drive user signups and get paying customers.
Aside from acquiring user signups and paying customers, this free tool helps them in other ways.
Earn high-quality backlinks for free without begging for them.
According to Ahrefs, the Coschedule Headline Analyzer tool has earned around 26,400 backlinks from over 7,000 referring domains.
And guess what?
84% of these backlinks are do-follow, which is around 20,000+ do-follow backlinks from 6,031 referring domains.
Suppose we're to go by this Ahrefs 2018 study that estimates that the cost of buying a backlink is around $361.44. This means that Coschedule will spend about $2,179,844.64 to purchase these backlinks.
The best part…
These are backlinks from high-quality, authoritative, and high DR websites such as:
Microsoft
Wix
Zendesk
Typeform
HubSpot
Namecheap
Siteground
Inc.
Teachable
Neil Patel
And so on
Build a brand for their software and business.
The monthly search volume for the keyword "Coschedule Headline Analyzer" is around 5,400. So that's approximately 64,800 searchers every year.
This branded search term highlights users' awareness about the Coschedule Headline Analyzer.
This shows that building a free tool is an effective way to build brand awareness for your business. This is because when you build a unique and helpful tool and offer it for free, people will tell others about it, hence amplifying your brand.
Key Takeaway:

Building a free tool for your target audience is a content moat that can help you unlock tons of untapped opportunities in your niche.
Strategy #6: Find Underestimated Channels To Unlock Underrated Returns
According to Data Reportal, Pinterest had about 454 million monthly active users worldwide in July 2021. This makes it the 14th most active social media platform in the world above Twitter, Reddit, and Quora.
For most B2B SaaS companies, Pinterest seems to be a non-existent social media platform. In most cases, they do not have an active account on the platform or never consider it a viable way to get more eyeballs for their business.
For Coschedule, this isn't the case. On Twitter, they have about 59,465 followers. Pinterest follows closely with almost 18,591 followers at the time of writing this.
What does this show?
While most B2B SaaS companies underrate Pinterest, Coschedule does otherwise.
Before we delve into how Coschedule uses Pinterest and the results they've achieved so far, here's a quick summary of Pinterest's organic traffic report, according to Ahrefs.
Ranking keywords: 288 Million
Monthly organic traffic: 851 Million
Traffic cost: $146 million
As you can see, Pinterest is an untapped goldmine for driving qualified traffic for your business.
Even though it's known as the platform to find ideas for recipes, home and style, fashion, and so on, you can still find an audience relevant to your business over there.
How Coschedule Uses Pinterest to Generate Qualified Traffic
Pinterest is a visual search engine where you can add pins such as stock images, infographics, custom images, etc., then organize them using boards.
For Coschedule, they created relevant boards for their brand on Pinterest and added relevant pins to promote their blog posts and guides.
Here are some of the boards that Coschedule uses on Pinterest:
Content Marketing
Marketing Statistics and Infographics
Marketing Inspiration
Social Media Marketing
Our Culture
Coschedule Products.
Here is what the Content Marketing board looks like.
Below are some of the pins on this board:
The first pin is the cover photo for a blog post about the 40 best marketing podcasts. The second pin is an infographic describing 20 ideas you can use to plan a newsletter.
Another board that Coschedule has on Pinterest is the Coschedule Products board.
Here's what that looks like:
As you can see, this board is specifically to announce new product updates and highlight some of the core products of the software.
Here are some pins on this board: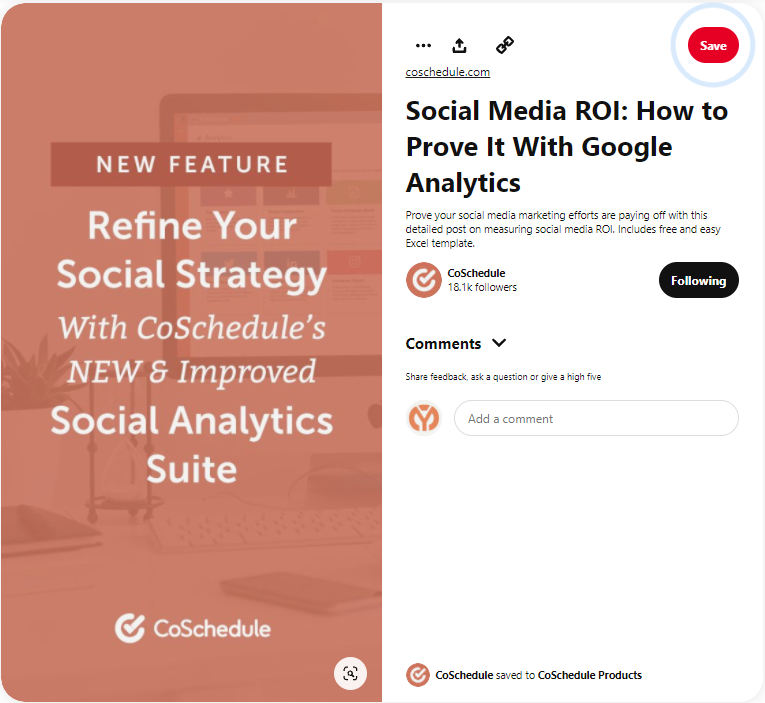 Finally, Coschedule also has the "Our Culture" board. Here's what the board looks like:
This board is mainly to show the faces behind the work at Coschedule and what it looks like to work at the company.
Here are some pins on this board:
These pins humanize the brand and show followers that real people are working behind the scenes to make things work.
How Has Coschedule Faired So Far On Pinterest?
According to Pinterest, Coschedule gets over 900,000 views from the platform every month.
This shows that the Coschedule brand is exposed to new and old Pinners about one million times monthly.
This is impressive compared to the low organic reach of pages on other social media platforms like Twitter, LinkedIn, Facebook, YouTube, etc.
Pinners can click on a pin and be redirected immediately to your landing page or content on Pinterest. That way, anyone who views your pin and is interested in it can access the information they need without delay.
This makes it easier to generate more qualified traffic faster since you do not need to convince the pinner further.
Considering that 45% of people in the US with a household income above $100k are on Pinterest. Hence, driving more conversions on Pinterest is easier, as you're marketing to people who are affluent and have the money to buy.
Want us to send this article to you via email? to get the free PDF version in your inbox as soon as possible.
What Coschedule Can Do Next To Crush The Competition
Coschedule has evolved from a content calendar tool to helping marketing teams grow and become more efficient in their work. Due to this, they now have a lot of direct and indirect competitors.
This means that more prospects will compare them to these competitors before making a buying decision.
A quick Google search of "Coschedule Vs." shows the different competitors that prospects are comparing them to.
As you can see, some of the companies that searchers are comparing Coschedule to include:
Hootsuite
Asana
Loomly
Sprout Social
Monday
Later
Buffer
Trello
Planoly
Agorapulse
When you search Google for these comparison keywords, Coschedule isn't ranking.
Here are some examples:
This keyword has a monthly search volume of 90 and a CPC of $9.03. Most of the websites ranking on the SERPs are software review websites like Capterra, Trustradius, Softwareadvice, SaaSscout, Crozdesk, etc.
Software review and affiliate websites like Getapp, SaaSscout, Trustradius, Crozdesk, SaaSworthy, etc., dominate the SERPs for this high-intent keyword.
As you can see, there's an opportunity here that Coschedule isn't leveraging yet.
Creating comparison pages for their top competitors will help them to:
Own the narrative
Guide their prospects better
Acquire hot prospects and
Drive user signups from these content pieces.
The downside of these comparison keywords is that they don't have a high search volume. That said, they're high-intent keywords and have the potential to lead to more conversions. Also, as the industry matures, more people will continue searching for them.
If Coschedule can leverage these pain-point content marketing strategies, they'll become invincible to their competitors.
Wrapping It Up
Getting the first 1000 customers for a SaaS business is challenging. Taking a B2B SaaS company from 0 to 8,000+ paying customers in less than ten years is impressive. This is exactly what Coschedule has done for their business by investing in content marketing.
Coschedule has shown that it's not only possible to stand out in the sea of content sameness, but it's something you must do to grow your SaaS business fast.
While it might be difficult to replicate their exact strategy and get the same results as they did. It's possible to look at some of the impressive things they've done with the blue ocean strategy and apply some of these principles and tactics to scale your SaaS business predictably.
If you want to implement and achieve similar feats for your B2B SaaS company, we got you covered. At Your Content Mart, we help early-stage B2B SaaS companies acquire more users and drive revenue from content marketing using ROI-driven content marketing.
You can schedule a 30 minutes free discovery session with our Lead Content Strategist and see how to fuel your company's growth using content marketing.