There are over 26,000 SaaS companies in the world right now, according to data from Crunchbase.
In fact, in the last year alone, there were about 375 new SaaS companies.
What does this mean?
On average, one brand new SaaS company joins the pool of existing SaaS companies in the world every day.
This shows that the SaaS business model is becoming more popular. Hence, the competition for audience attention continues to grow.
On Capterra, there are over 700 software categories as we speak.
The same scenario is also happening on G2, a popular software review website.
From popular categories such as CRM software, project management software, marketing automation software, and so on. To less-known categories such as church software, dental practice software, massage therapy software, pawnshop software, and so on.
The fact is…
There's a SaaS product for any problem you can think of.
So, if you're a SaaS founder or marketer, you should rethink how you market your software to your target audience.
Else, the huge competition out there will consume you.
An effective way to make this happen is through SaaS content writing.
In this in-depth guide, I walk you through how to create content for a SaaS company.
After reading this guide, you'll learn the following:
5 things you must do before writing any piece of SaaS content.
8 types of content you should focus on for your SaaS business (Backed by Unique Research).
15+ SaaS companies that are using these content types to grow.
How to get your content in front of the right audience
SaaS content writing tools to improve your productivity and output
Let's dive in…
What is SaaS Content Writing?
SaaS content writing involves creating content that attracts your Ideal Customer Profile (ICP), positions you as an authority in the niche, shows prospects how your product works, and finally converts them from readers to trial users and paying customers.
To help you understand how this works in real life, here's an example that could be helpful.
Assuming that you've built a SaaS product that helps Shopify store owners tackle and follow up with abandoned cart prospects via email.
The fact is…
Most of your prospects who are on Shopify might not know that it's possible to reach out to anyone who abandoned their cart via email.
So, you need to educate your audience first about your solution and answer questions they might have through content.
If there are other SaaS products that are doing the same thing as yours, then you need to establish yourself as an authority in your industry.
This is because most people prefer to do business with someone they know, like, and trust.
And if you're unknown in your industry, the audience will be skeptical about trying out your product.
Aside from establishing authority, you must show your prospects how your software works.
Here is why…
No one ever wants to pay for a product that will take them forever before they figure it out.
If your SaaS product targets Shopify stores like the example above, then you need to create content that explains how it works. That way, they'll trust you more and prefer to use your product when they're looking for the kind of solutions you offer.
Finally, you need user signups to get feedback about your product and paid users to keep your business running.
To make this happen, you should master how to move your prospects through the buyer's journey to take action.
Is SaaS Content Writing Different From Other Forms of Writing?
The major difference between writing content for a SaaS product and other forms of writing is that with SaaS content writing, the goal, in most cases, is to convert the reader to a user signup or paying customer in the long run.
Here are some questions to answer when creating SaaS content:
What separates your SaaS product from other options?
What are the core features of your SaaS product?
Is your SaaS product innovative in any way?
Are there other use cases for your SaaS product that your audience doesn't know?
What are the pain points that your SaaS product is solving?
This might not be the case with other forms of writing.
Content Writing For SaaS: Why Should You Care as a Founder?
Recently, HubSpot (the popular marketing CRM) reached a 100,000 users milestone and became a $1 billion ARR company.
So, how did they achieved this feat over a 15 year period?
While there are a lot of things that the HubSpot team has done marketing-wise, one of their superpowers is content writing.
According to SEMrush, the HubSpot blog currently has about 13,857 pages that are indexed on Google.
This means that, on average, the HubSpot team publishes about 923 articles on its blog every single year.
This translates to about 2-3 articles that go live on the HubSpot blog every day.
And the results so far have been astonishing.
According to SEMrush, the HubSpot blog ranks for over 1 million keywords in Google. Which brings in an estimated 4.7 million organic traffic (visitors) from Google every single month.
The most interesting part…
If they were to pay for this amount of traffic with Google Ads, they'll spend around $12.2 million per month.
If you run a software company, you should care about SaaS content writing.
The reason is simple.
There's no better way (at least for now) to communicate the benefits of your SaaS product to employees, prospects, and customers if not through writing.
If you want people to know about a new feature you've shipped to your software, then you need to write about it.
If you want to explain how your product works, then you'll have to create content for it.
If you want to educate your audience about your software through your blog, then you need to write.
If you want to reach more people and eventually grow your SaaS business, you need to create content.
If you want to get more eyeballs to your software organically, then you need to create content to do so.
If you want to create high-converting ads for your software, you also need to create content.
As you can see, content writing for a SaaS company is uber-important. And it's a skill you must learn or find someone to handle for you if you want to be a successful SaaS founder.
Before Writing Content For Your SaaS Brand: 5 Things You Must Do
As you can see, content marketing is an effective strategy for SaaS businesses. That said, if not used the right way, you might not get the results you desire for your business. Here are 5 things to put in place before you start writing content for your SaaS business.
1. Identify a Business Goal
This is the first step to take before writing SaaS content. This is because there are different business goals that matter for your SaaS product. Knowing the right one to go for will help you align your efforts and create content that resonates with your audience.
Take, for instance, your goal could be to create SaS content that helps to increase your MRR by a certain percentage, year over year. Having a business goal like this will help you figure out the type of content you should focus on to get there.
That way, you'll find it easier to measure your results and improve on them in the long run.
2. Understand and Define Your ICP
Defining your Ideal Customer Profile (Also known as a buyer persona) helps you to come up with a successful content marketing strategy that drives sales for your SaaS brand.
This is because if you know who you're creating content for, you'll know exactly what their pain points are, and write content that converts them to user signups and paid users with the buyers' journey.
If you're getting started with SaaS content writing, then you need to conduct market research. When doing this, here are some things you should focus on:
What excites (interests) your target audience?
What motivates them the most?
What are the biggest challenges they're facing right now?
What keeps them up at night?
What alternative solutions are they using?
So, how exactly do you build a buyer persona for your SaaS brand?
Here's a 13 minutes video by Ryan Stewart, where he explains how you can use data to create your buyer personas.
Some of the places Ryan mentioned in the video to gather data include:
Google Analytics
Social media (especially Instagram)
YouTube
Podcasts
Facebook audience insight tool
Having a buyer persona as a SaaS business before using content marketing to drive more sales for your business helps a lot.
After gathering all the data you need from the sources above, you can then use this spreadsheet to build out your personas.
3. Audit Your Existing Content
Publishing new content isn't always the solution to your content marketing woes. If you've been creating content for a while on your website, audit your existing content on a regular basis.
Here's why…
Google likes fresh content and rewards websites that audit and updates their old content. Not only that, but it's also great for user experience. You don't want to be linking to a 2005 stat in 2021 or have broken pages all over your content.
A content audit helps you to assess the existing content on your website. That way, you can know exactly what works and what doesn't.
When you do this, you'll have a better idea of the type of content that your audience loves and focus on new milestones that can help your business grow.
Take, for instance, Hiba Amin, the Senior Marketing Manager at Soapbox got some incredible results by updating their company's blog.
As you can see, there was a bump in traffic to their blog after auditing and updating their existing content.
When asked about the specific things the marketing team did to make that happen, here was her response.
Here is a step-by-step guide for conducting a content audit that impacts your company's growth.
4. Perform Keyword Research
If you don't create content that your audience is interested in, chances are that nobody will read it. And if nobody reads your content, the probability that you'll get results from SaaS content writing is very slim.
This is why you should research what your audience is actively searching for before creating any piece of content, especially if you're relying on organic traffic growth. This is also known as keyword research.
One of the under-utilized ways to perform keyword research is to ask your current customers questions. When you do, they're most likely to tell you the challenges and problems they're facing right now.
That way, you can create content that solves a pain point that they're having.
Aside from getting keyword ideas from customers, you can also use free and paid SEO tools to figure out the kind of content you should create.
The Google Auto-suggest and the People Also Ask box, provide an insight into what people are searching for in your niche. That way, you can generate tons of content ideas within minutes.
Here's a video where I walk you through how to perform keyword research using this strategy.
5. Figure Out the Search Intent
Search intent is an underrated SaaS content writing tactic you can use to rank high on Google and make people spend more time on your content. Hence, sending the right quality signals to the search engines.
Here's why search intent is important.
People don't randomly search for things on Google. In most cases, they have a reason for doing so.
Sometimes it could be to find the right information, to investigate further, to make a buying decision, or to make a purchase.
Before creating any piece of content, put yourself in the shoes of someone who searches Google for a particular query, and what could likely be going on in their mind.
If you can figure out exactly what that could be, and provide the most accurate answer for what they're looking for, then you've nailed the search intent.
I love the way Brendan Hufford, Founder of SEO for the Rest of Us illustrates what search intent looks like in real life:
After identifying what the search intent is about, you can then start writing content for your SaaS business.
How to Write SaaS Content: 8 Content Types You Should Focus On (With Examples)
As a SaaS business, you want to attract new users to your product. After all, when more people sign up for a free or paid trial of your product, the higher your chances of converting them into paid customers.
If done right, SaaS content can help you:
Provide valuable information to your target audience.
Solve their pain points.
Show them how your product works.
Convince them to give it a trial.
If you're getting started with SaaS content writing, this might be a lot to chew. That's exactly why I want to show you the 8 content types that get results for SaaS businesses, and how you can use them too for your SaaS brand.
If you run a SaaS business, I highly recommend that you should leverage product-led content marketing.
Here is why…
Product-led content helps you create content that addresses your audience's pain points and show them exactly how to solve them using your SaaS product.
You can't grow your SaaS by generating tons of traffic with your content alone.
Rather, you want to drive more conversions with each piece of content you publish.
This is where pain point content comes in.
With pain-point content, you target bottom-of-the-funnel keywords that address the problems your prospects desperately want answers to before making a buying decision.
If SEO is the primary growth enabler for your SaaS brand, you need backlinks.
This is because they bolster your website's authority and help you rank high for competitive keywords in your niche.
To earn backlinks naturally without begging for them, you need data-driven content.
With data-driven content, you publish original research, statistics pages, industry analysis, surveys, etc. that your audience will find helpful and link to,
Here is a quick assignment for you.
Search for any keyword on Google, you'd find that most of the ranking pages are writing almost the same thing.
So, how can you write articles that stand out in the sea of sameness?
Simple, leverage opinionated content.
With opinionated content, you're able to build a fanbase of readers who are always on the lookout to read from you again.
Creating actionable content that your readers will always love and find valuable is hard.
Especially, if you have little to no experience on the subject matter you're writing about.
Say you're knowledgeable on the topic, you'll soon hit a roadblock if you're trying to do this at scale.
So, what should you do in this case?
It's simple.
Leverage Subject Matter Experts (SMEs) in your content marketing program.
By working with SMEs, you'd always create actionable content with rare insights for your readers.
That way, you'll achieve the tripartite goal of education, trust, and relationship building with your content.
6. Long-form Informational Content
As a SaaS business, you should be creating long-form content.
The reason is simple.
Long-form content in its nature is usually thorough and in-depth. This means that you're most likely to answer your audience's questions and provide solutions to their pain points with a piece of content that is long.
Researches conducted over the years have shown that long-form content outperforms short-form content.
According to SEMrush, long-form content of 7,000+ words generate almost 4 times more traffic and 43% more shares compared to articles of 900-1,200 words.
In its recent annual blogging survey, Orbit Media found out that bloggers who write more long-form content of about 3000 words and above, report stronger results compared to those who don't.
Likewise, in its analysis of 912 million blog posts, Backlinko found out that long-form content of 3000 words and above gets an average of 77.2% more referring domain links compared to short-form content of 1000 words and below.
As you can see, long-form content leads to:
Increased traffic
More social shares
Stronger results
More backlinks
How Active Campaign Reached 100,000 Monthly Organic Traffic Users Through Long-form Content
In this post about growing the Active Campaign blog from 8,765 organic search visitors in 2017 to 119,037 organic search visitors in 2019, the Director of Marketing Benyamin Elias has this to say about long-form content.
When I dug deeper using SEMrush, I found out that long-form content is a secret sauce for Active Campaign.
For example, this blog post about "18 Habits of Highly Productive People" is about 5218 words long.
According to SEMrush, it currently ranks for 813 organic keywords and brings in about 5,300 organic traffic users per month.
It also ranks number 1 on the SERPs for some high-volume keywords such as
"how to be more productive"
"how to work efficiently",
"how to be more effective at work".
As you can see, Active Campaign is getting more eyeballs to its blog through this long-form piece of content. This will lead to more people knowing about its SaaS product on a daily basis.
Another great example of a long-form piece of content from Active Campaign is this blog post about announcement email examples. The page is about 3523 words long.
According to Ahrefs, this page has garnered over 5,000 backlinks since it was published.
Traffic-wise, the page has been on a steady increase. It currently brings in about 1,400 visitors from search every month, based on SEMrush estimation.
It also dominates the top of the SERPs for some high-intent keywords such as;
"product announcement"
"new inventory email sample"
"online store launch announcement".
While the target keyword for this post is "announcement emails", it's also ranking for some variations of the keyword.
What's the best way to approach long-form informational content for a SaaS brand?
"When it comes to informational content, I immediately think of levels of awareness. People searching for problems (what I call "problem awareness") aren't going to be highly qualified, but the article can serve as brand and product awareness. They don't yet know what kinds of solutions can help them, but they're open to finding out.

However, instead of focusing on your product, focus on the reader. Deeply empathize with them around their problem. Lean into their struggles and what they're dealing with.

A bit deeper, I think about people searching for solutions to their problems ("solution awareness"). These people have some kind of idea what solution could help them, so we just need to show how our solution can solve their pain. While the article may be more how-to, we can still highlight our software and show how much easier things are when using what we sell. In summary, focus 100% on your customer journey and make sure you're creating content that addresses every part of it."


Expert insight from Brendan Hufford, Founder SEO For The Rest Of Us
7. Topical Authority Content
An often neglected yet important ranking factor is topical authority. This is because Google looks at a website as a whole and decides if it's a good fit to rank for certain keywords based on the topic(s) the website covers. If the website doesn't have enough topical authority for some keywords, it'd be difficult to rank for them.
Take for instance, if your SaaS website is about email marketing, ranking for keywords related to the general theme of your website is much easier.
In contrast, if your SaaS website is about LinkedIn lead generation, and you're writing about conversational marketing, it'll be difficult to rank for that keyword, even if you have the best piece of content on the web about it.
This is why establishing topical authority as a SaaS business is critical. When you have topical authority for the niche you're covering, you'd find it much easier to rank for any piece of content you publish.
How Do You Establish Topical Authority For A SaaS Website?
If you care about ranking for specific keywords that matter for your business, then you should establish topical authority fast, especially if you're starting from scratch. As I mentioned earlier, it's an often neglected factor that can have a huge impact on your rankings.
There are two ways to establish topical authority for a SaaS website. One, by creating a category. Two, by creating and implementing a topic cluster strategy.
Let me share some examples to show you how this works in real life.
How Hubspot Created a Category Out Of Thin Air and Dominates Their Industry Till Date
One great example of SaaS category creation to date is Hubspot. Before founding the company in 2004, one of its co-founders Dharmesh Shah coined the term "inbound marketing", and christened it as the new way of marketing online.
Today, inbound marketing is a well-known tactic for marketing and growing a business online.
If you check Google trends, you'll notice that the interest in the topic continues to increase.
On SEO tools, the search demand for the keyword is also on the increase. According to SEMrush, the total volume for the keyword is currently above 57,000 per month.
Keywords everywhere estimate that the search volume for this keyword is currently around 135,000 per month.
Since 2004 when inbound marketing came into limelight, more and more people are searching for it, and want to use it as a strategy to grow their business.
Apart from creating this category, here are some of the things Hubspot did to establish itself as the go-to authority for "inbound marketing"
Doing all these has helped Hubspot establish topical authority for inbound marketing. And when you talk about inbound marketing anywhere, the first name that comes to mind and rings a bell immediately is Hubspot.
How Drift Dominated a $1.7 Billion SaaS Industry With a Category Differentiation
Before the entry of Drift into the chatbot industry in 2015, other companies referred to their software and tools as chatbots. When Drift entered the market, they coined the term "conversational marketing". Hence, their tool was known as a "conversational marketing tool."
Today, conversational marketing is a well-known term in the marketing industry, thanks to Drift. And when you mention conversational marketing tool, Drift software immediately comes to mind.
Aside from creating a category that differentiates them from their competitors, Drift also uses the following playbooks to remain as the authoritative source for this topic.
From the two examples (Hubspot and Drift) above, you can see that creating a new category in your niche is a great way to establish topical authority in your industry. And when you do, you're able to rank higher for branded keywords for months and years to come.
How Moz Became The SEO Industry Leader With Its Beginners Guide To SEO
If you Google "SEO", "Search Engine Optimization", "What is Search Engine", "How to do SEO", "SEO for beginners", "SEO 101" guess who occupies the number 1 spot.
Moz, of course.
Now, you may be wondering? How were they able to dominate an entire SEO industry, with a lot of experts?
It's simple.
They created a topic cluster of a beginners guide to SEO, making sure that they answered all questions that anyone can have related to SEO.
Here's exactly how it plays out.
The guide has about 8 chapters which includes the following:
SEO 101
How search engines work
Keyword research
On-site optimization
Technical SEO
Link building
Measuring, prioritizing, and executing SEO
SEO glossary
From the main (pillar) page, there's a jump link to each of these chapters (cluster pages), which automatically adds an internal link to them.
And from each individual chapter, you can easily navigate to the previous or next chapter. Plus an internal link to the next chapter (in the beginning and end of each chapter).
Here's what it looks like:
That's not all…
At the end of each chapter, there's easy navigation to all pages, plus an internal link to each of them.
As you can see, while each chapter covers a different topic. They're all interlinked together. Hence, making it easy to pass link juice across all the chapters and rank high for the main keyword.
Since all the chapters are related to SEO and cover each aspect in-depth, Google sees it as the most authoritative article on the topic and continues to rank it high on the SERPs. This SEO moat by Moz is known as creating a topic cluster.
And the result from this piece alone is incredible.
According to SEMrush, this guide brings in over 177,000 organic traffic per month, which costs around $1.3 million.
By investing in and creating a topic cluster for the main keyword (search term) in your industry, you can become the go-to authority in the long run.
Another great example of a topic cluster is Drift's ultimate guide to chatbots.
This guide covers some fundamental topics in chatbot such as:
How does a chatbot work?
What are the benefits of a chatbot?
Why are chatbots important?
How to create a chatbot?
An introduction to A.I chatbots
Chatbot examples
From the main page about chatbot, they write a summary of each chapter and then link to the complete article.
Here's an example:
As you can see, they highlighted some benefits of chatbots and prompted their readers who are curious to learn more to click on the internal link. That way, they're able to link to other articles in the cluster.
And from those cluster pages, they're linking back to the pillar page.
Here's an example:
With this topic cluster strategy, they were able to rank high on Google for the main keyword "chatbots", because they've shown themselves to be an authority in the topic.
According to SEMrush, that page ranks for over 600 keywords and brings in over 3,000 organic traffic visitors per month.
If you want to become the go-to authority in your industry for your audience and in the eyes of Google, then you should leverage topical authority content.
How Exactly Do You Write Topical Authority Content for a SaaS brand?
In this short video, you'll learn how HubSpot ranks for high-quality keywords by building topical relevance around specific topics instead of keywords, and the exact process they follow to make that happen.
8. Conversion-focused Content
Aside from creating content to educate and inspire your audience, you're most likely interested in getting conversions from each piece of content.
This is because conversions matter more than anything for a SaaS business. Without conversions (such as user signups, leads, and customers), you'll most likely find it difficult to justify your investment in content marketing.
So, how exactly do you drive conversions from each piece of SaaS content that you create?
Enter Conversion-focused Content
Conversion-focused content is a type of SaaS content that helps you drive conversions for your business. This is important for a SaaS business, because the more conversions you achieve, the more users you can get to sign up for your SaaS. And in the long run, the more revenue you can generate for your business.
Here are some examples of SaaS businesses that excel with this strategy.
How Smartsheet Intelligently Drives Conversions With Downloadable Templates Without Asking For Emails
If you're in the project management space, you'll probably have heard about Smartsheet. In case you don't know about them, it is a SaaS product that helps users to assign tasks, track projects, manage calendars, share documents, etc. using a tabular user interface.
Smartsheet wants business owners who use Excel to use their products instead. So, they're a big Excel competitor.
To dominate the industry with a lot of competitors, they focus on creating template pages. What this means is that they compile templates that'd be useful for their readers, and write an article related to it; offering those downloadable templates for free.
If you check the Smartsheet blog, you're likely to come across posts such as these: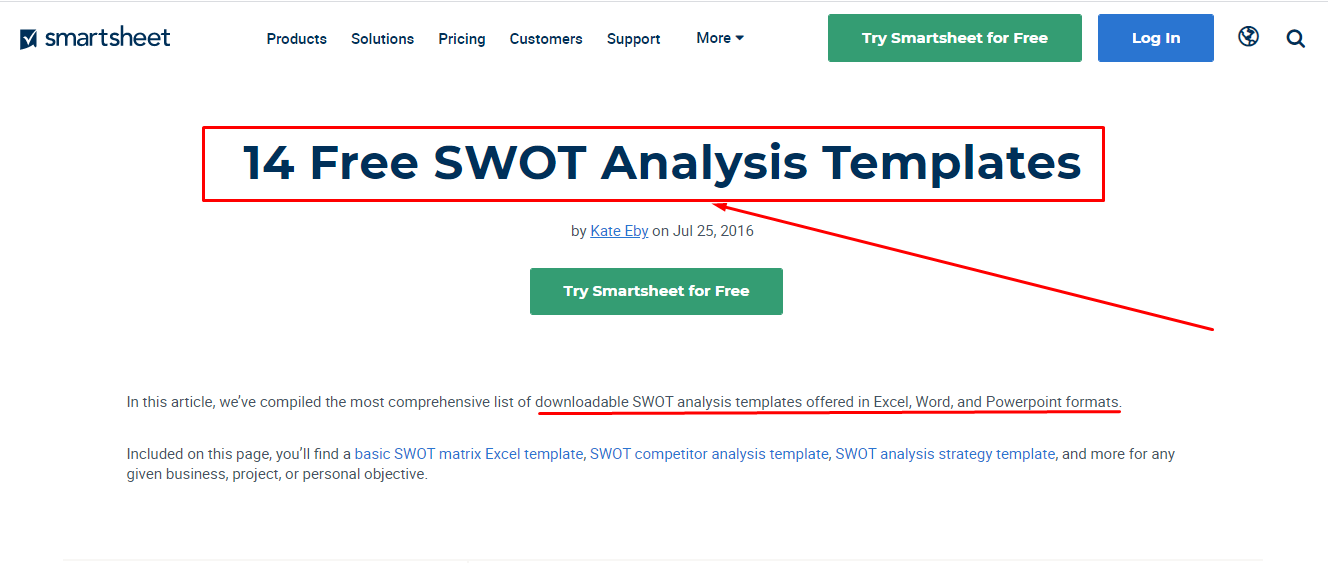 On the surface level, it might look that offering free templates that can be easily downloaded, might not be a good idea.
But when I dug deeper, I found out that they're actually using these templates to increase user signups for their business.
Take this template page about SWOT analysis as an example, anyone searching for such a keyword on Google, is most likely a business owner looking to analyze the opportunities in the market they're in, and how they can compete. Which is a segment of their target audience.
Also, anyone who stumbles on this page is looking to download SWOT analysis templates which they can use right now. They might not know exactly how Smartsheet fits into that, and this is where it gets really interesting.
First on the header of the page and immediately beneath the title, there's a call to action asking the reader to try Smartsheet for free.
Second, there's a static CTA that's visible while you're scrolling down the page, urging you to try Smartsheet for free.
Each template on the page follows the same pattern of title, screenshot, download button(s), and short description.
You can either download the template on Smartsheet and Excel or excel only. Here's what that looks like:
The Excel option makes it easy for anyone to download the templates without signing up for a free trial or entering their contact information.
When you click on the option to download via Excel, you'll be prompted with a pop-up that looks like this:
Again, they want you to become a user of the software while still on the page. And offers you the option to decline and continue your download immediately without asking for your contact information at all.
If you click on the Smartsheet option, you'll be redirected to a page that looks like this.
As you can see, Smartsheet only asks for your contact information, when you've shown interest in trying out their tool. Smart approach if you ask me.
Another interesting aspect of this Smartsheet template page strategy is that they designed the Excel sheet templates to drive conversions.
Right there in Excel, they're promoting their software and prompting anyone who's downloaded the template to try out their tool for free for 30 days.
And this strategy obviously works for Smartsheet.
According to SEMrush, there are over 670 organic pages on Smartsheet's website that have the keyword "templates" in their URL.
While we can't estimate the exact number of conversions they're getting from these pages, they're actually killing it organic-traffic-wise from this strategy.
Right now, they're ranking for over 36,000 template keywords which bring in about 250,000 organic traffic visitors, every single month, as per SEMrush estimates.
Using conversion-focused pieces of content such as this, you won't struggle to increase user signups for your SaaS business.
How Coschedule Grew Its Email List To Over 880,000 Subscribers With Content Upgrades
Another type of conversion-focused content that you can use for your SaaS business is a content upgrade. Content upgrades are upgrades to an existing piece of content on your website. In most cases, they're gated resources and anyone who wants to access it will need to provide their email address.
One SaaS company that uses this strategy to grow its user base is Coschedule. If you check any of their blog posts, you'll notice that there's a content upgrade that ties down to what the reader has finished consuming.
Take this blog post about color psychology in marketing as an example, anyone who searches for and stumbles on it is most likely interested in branding their business.
Immediately after the table of contents, they introduce the content upgrade; a color psychology marketing bundle that can be downloaded.
Here's what it looks like:

As you can see, the Coschedule team prompts you to download the bundle and join their email list.
And once you click on the "Download Now" button, you'll be redirected to the form where you can enter all your details and download the content upgrade.
Here's what that looks like: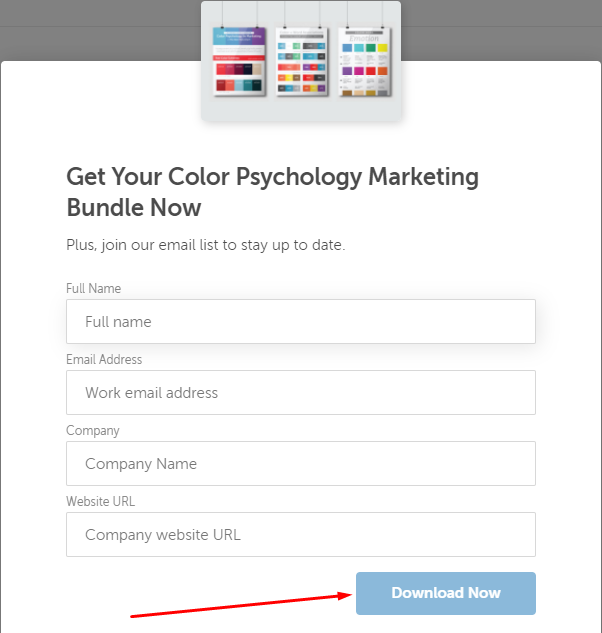 On this blog post about catchy blog title formulas, the same strategy is also playing out. Right before the table of contents, they introduced the content upgrade; which is a downloadable catchy blog titles bundle, which looks like this.
This prompts you to download the content upgrade and join their email list. After clicking the "Download button", you'll be redirected to the form to enter your contact information and download the bundle.
Here's what that looks like:
This is the exact playbook that Coschedule uses for all pieces of content published on their blog.
After entering my details in the form above, I was able to download a Zip file that contains these three documents.
Blog title performance tracking template
Content calendar excel template
Catchy blog title infographic
And each of them offers a specific value that helps the reader.
The catchy blog title infographic for example contains a list of 500 words and 100 headline templates that can be used to write headlines that get more traffic.
Here's a snapshot from the infographic:
They also subtly promote the software inside this infographic. Here's what that looks like:
The blog title performance tracking template also follows a similar pattern. The template which helps you to track how each headline you create performs is a good place to start for anyone who wants to get better at writing headlines.
At the top of the template, they promote one of their free tools which is an amazing resource for coming up with headline ideas.
And finally, there's the content calendar excel template. A great starting point for anyone looking to create a content calendar; which is one of the core features of Coschedule.
They also promote a 14-day free trial of their tool right inside this template.
As you can see, the content upgrade strategy isn't just a means to get email subscribers for Coschedule. Rather, they use it as an opportunity to add more value to their audience and also promote their paid software.
According to Gareth Moon, Coschedule's co-founder, using content upgrades has been instrumental in converting their traffic to leads and growing their subscribers to over 880,000 as of 2019.
While we can't predict the exact number of these leads that convert into paid customers. With a huge amount of user signups like this, they'll most likely be killing it business-wise. Take, for instance, if just 1% of these leads convert to customers, they'll have about 8,800 paid users.
And for a product that costs at least $29 per user per month, this is easily a six-figure MRR business.
What Can SaaS Businesses Do to Generate More Conversions From Written Content?
"If you are trying to generate leads for your sales team, implement live chat. This is because increasing conversions comes down to reducing friction. One of the best ways a B2B company can reduce friction and lower the barrier to entry is to add live chat to their site with prompts that are contextual to the page.

Additionally, they need to have SDRs that can quickly and knowledgeably answer visitor questions about the product in real-time."


Expert insight from JH Scherck, Founder, Growth Plays
After Writing Content For Your SaaS Brand: What Next?
Publishing content and praying that it ranks is a common mistake among most SaaS businesses.
Here is a fact…
Even if you've written the best piece of content on the internet about a topic, you need to get it in front of the right audience if you want it to generate signups, leads, and customers for your business. That's the only and sustainable way to get results from your content marketing efforts.
Else, you'll be wasting time and resources to create content that no one reads.
So, how exactly do you get your SaaS content in front of the right audience?
Simple, by promoting and distributing any piece of content you create.
How to do SaaS Content Promotion and Distribution the Right Way
If you want to promote and distribute your SaaS content the right way, here are some in-depth pieces of content that walk you through the steps and strategies you can implement.
How Should SaaS Businesses Approach Content Promotion and Distribution
"The best SaaS companies approach content distribution by first understanding which channels their target audience spends their time. Once this happens, they reverse-engineer the content on those channels in which they are generating the most results.

Once they have clarity on the type of content people want [in these channels], they are intentional every single time they press publish to distribute that content on those channels in the way their audience wants to consume content."


Expert insight from Ross Simmonds, Founder & CEO Foundation
SaaS Content Writing Tools: How To Increase Your Productivity and Output
If you want to get the best results from content writing as a SaaS business, you need to make use of the right tools. Below are some of the highly recommended tools that will make you more productive and increase your output.
Keyword research tools
Content planning tools
Content brief tools
Content Harmony: A premium tool for creating data-driven content briefs automatically.
Usetopic: An intuitive premium tool that's great for creating content briefs for your team
Content ideation & writing tools
Content audit tools
Content optimization tools
Content management tools
Content design tools
Conclusion: Finally, You Can Write Content That Increases User Signups and Drives Sales For Your SaaS Business
If you've read to the end of this guide about SaaS content writing, congratulations!
I'm confident that this piece has shown you what it takes to write content that increases user signups and drive sales for SaaS companies.
Firstly, you learned 5 things you must do before creating content for your SaaS business.
Secondly, I shared with you 8 types of SaaS content you should be creating, if you want to get the results that matter for your business.
Thirdly, I showed you examples of SaaS companies that are creating and implementing each of these content types. Plus, what they're doing behind the scenes.
Fourthly, I explained what you need to do, after creating your SaaS content and hit the publish button. Including, the promotional strategies that work well for SaaS.
Finally, I shared with you SaaS content writing tools that'll improve your productivity and output.
Hopefully, the insights shared in this post will help you create better content for your SaaS brand.
Found this guide helpful in writing content for your SaaS business?
Kindly drop a comment to let me know your biggest takeaway from this piece.
In the meantime, if you want a SaaS content marketing agency to plan, write, and distribute content that generates high-quality traffic and increases user signups for your software company, then you're in the right place?