95,433,873!
That's the total number of posts and pages published on WordPress alone in August 2021.
This means that on average, about 3,078,512 posts and pages go live on WordPress every single day.
And this is for WordPress alone.
Content management systems (CMS) like Joomla, Hubspot, Drupal, Wix, Ghost, Magento, etc. are used on a daily basis for the same purpose.
What does this show?
There are tons of content out there seeking your audience's attention. And if you want them to read yours, you must be ready to go the extra mile.
This is where creating opinionated content comes in.
With it, you're able to position yourself as a Subject Matter Expert with your target audience faster.
That way, they can trust and want to read from you.
In this post, I'll show you exactly how to use opinionated content to write articles that cut through the noise.
Plus, I'll share with you examples of SaaS companies that are leveraging this content type to grow their business.
After reading this article, you'll learn the following:
What exactly is opinionated content?
Why you should leverage opinionated content marketing as a SaaS company
Opinionated content marketing examples you can learn from
When to create opinionated content for your SaaS brand
Let's get started.
What is Opinionated Content?
Opinionated content means writing about an opinion you hold. In some cases, this type of content leads to heated discussions on social media and elsewhere.
Here's why opinionated content makes sense.
There's a lot of similar content out there ranking for the same keyword.
In fact, if you were to search Google for any keyword, you'd find that most of the pages ranking on the SERPs are writing almost the same thing.
And finding a content piece that stands out is difficult.
I love the way, Ryan Law, the Director of Marketing at Animalz puts it in this post about Copy Cat Content:
"In chasing search traffic, companies are sleep-walking into intellectual plagiarism. They're fixating on their keyword research tools and SEO briefs at the expense of originality and personality. They're curating other people's work, instead of creating their own. They're choosing to make content longer, instead of better."
As a result, we're left with content pieces that look like this illustration:
By writing about your opinions, you cut through the noise and stand out in the sea of content sameness out there.
This adds value to your industry and leads to interesting discussions and takeaways.
The downside of this SaaS content writing type is that the traffic doesn't compound.
Likewise, there's little to no search about it on Google.
And in most cases, people tend to forget about your opinion after some months or years.
Why You Should Leverage Opinionated Content Marketing as a SaaS Company
If you want to rank high on Google and dominate the SERPs in your niche, focus on SEO content.
However, if your goal is to build a fanbase of loyal readers, focus on creating opinionated content.
I love the way John Collins, the former Director of Content at Intercom puts it in this video:
"If your content is opinionated, it'll start the conversation. And promoting and distributing that content becomes a lot easier."
Here are some other reasons why opinionated content makes sense for your SaaS brand.
1. Establish industry expertise and authority
If you want to establish expertise and authority in any niche, leverage opinionated content.
The reason is simple.
Whenever you share an opinion, it polarizes the industry.
While some people will strongly agree with you, others will vehemently disagree with you.
And guess what happens?
Those who agree with you start seeing you as an authority in the industry.
And those who disagree, will most likely respect your opinion and appreciate your expertise.
This is exactly what Wirecutter does with its review articles.
Most affiliate marketing websites compare different products, leaving the reader confused in most cases.
Wirecutter does the opposite.
They tell their audience which of the products they believe is the best for them and why.
Here is an example…
As you can see…
They recommend a specific coffee maker as the best for their readers. In this case, you can decide to agree or disagree with them.
And the best part…
This approach works well for them.
Google sees them as an authority in the affiliate marketing space. This helps them to rank high for keywords related to product reviews.
Right now, they're exploring the possibility of charging readers $5 per month to access the review articles on their website.
2. Grow an audience for your SaaS brand
Having an audience for your SaaS brand will help your business greatly.
The reason is simple.
When you build an engaging audience, selling your solution to them would be much easier.
To grow an audience for your SaaS brand faster, leverage opinionated content.
This is because sharing your opinions shows that you actually know what you're doing.
That way, people can trust you more and want to do business with you.
However, if you focus on creating SEO content alone, you might rank high on Google, but find it difficult to build an audience of people who love, support, and always want to hear from you.
3. Earn links naturally without begging for them
One of the best ways to earn high-quality backlinks for your SaaS brand is through opinionated content.
Here is why.
When most people read an opinionated piece of content, they tend to share it with their audience on social media and elsewhere.
And when more people share it, it could go viral.
And when an article goes viral, it tends to attract backlinks from other bloggers and website owners who find it interesting.
4. Bring up engaging conversations
Writing about your opinion leads to engaging conversations in your industry.
Take, for instance, GPT-3 and AI writing software is a hot topic in the SEO and content marketing industry.
Some marketers believe that AI could lead to the loss of jobs for copywriters in the long run.
Not only that, it could lead to more people creating content that doesn't add value to the readers.
Hence, it isn't a welcome development.
Others think that AI writing tools will make content marketers and writers more efficient.
For this category, GPT-3 completes rather than competes with marketers.
So, it is a welcome development.
As you can see…
Since people are sharing strong opinions about GPT-3 and the future of marketing, it leads to interesting conversations.
This is exactly what opinionated content does if used well.
5. Increase user signups and customers
When you share opinions about a trend in your industry, you'll make more people aware of your product.
And when people read about your software through the opinionated content that you've written they're more likely to check it out.
And if they're happy with what they see, they could sign up for a free trial and convert to a paying customer in the long run.
This is similar to using product-led content, to drive user signups for your SaaS.
In this case, your strong opinion will give your target audience an idea of how you think and what drives you as an individual.
If your values align with theirs, they're more likely to become a fan, and also want to check out your product.
Opinionated Content Marketing Examples: How These SaaS Brands Use Strong Opinions To Grow Their Business
Wondering if opinionated content will work for your SaaS company?
Below are some examples of SaaS brands that used this type of content to grow.
Let's get to it.
How Groove Built a $5M/Year Business With Its Startup Journey Series
Groove used to be a struggling startup until it revamped its approach to content marketing.
According to one of the founders, Alex Turnbull, they were running out of cash until they changed things.
Guess what they discovered?
Most of its users are startup owners who needed practical advice on how to solve the day-to-day problems they're facing in their business.
So, they started sharing opinionated content on how they were building their own business, and what they're learning along the way.
And before long, they started seeing results.
Take this post where they shared their struggles getting on Hacker News front page as an example.
As you can see, it's a content piece that isn't written for SEO purposes or targeting any keyword.
Rather, they shared how they failed to get on the Hacker news platform, and what they learned in the process.
Focusing on these types of posts leads to great comments from their audience such as:
Comments like these from readers show that they're adding value to them.
And, when most of them need a customer support SaaS solution, Groove will be one of their top choices.
Here's where it gets really interesting…
This article was published about 7 years ago with no SEO intent, yet it gets organic traffic consistently from Google.
This shows that you can still get organic traffic visitors with opinionated content.
Another great opinionated content example from Groove is this post about the 26 blogs that helped them in their journey to $100K/month.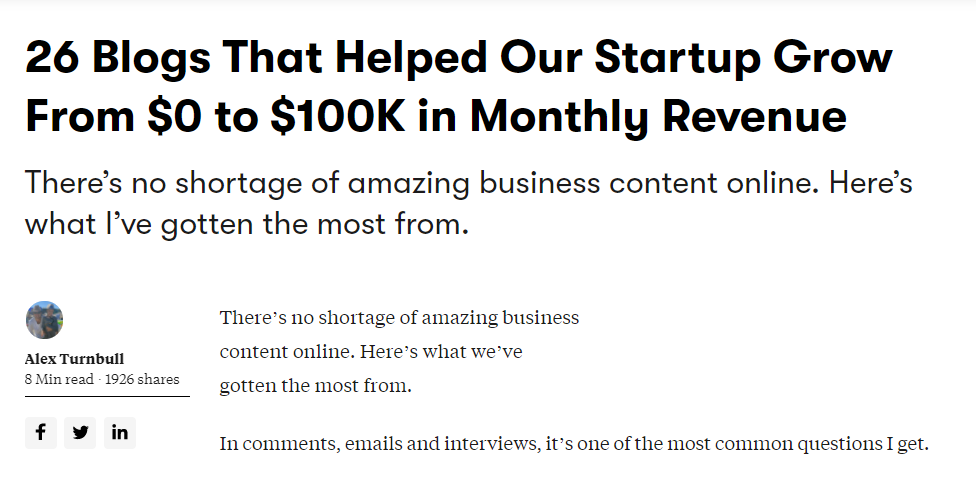 Most startup owners want to know the blogs they can read to grow their business.
While most articles on this topic rehash the same, Groove wrote from their own personal experience.
And when you search Google for the keyword "startup blogs", this piece of content which was written 6 years ago, still ranks number 1.
By leveraging opinionated content, Groove was able to:
Add value to their audience.
Grow their business.
Get organic traffic.
How Wistia Founders Show Their Vulnerability & Acquire Customers With Opinionated Content
Wistia uses opinionated content to turn blog readers into raving fans and eventually customers.
The co-founders Chris Savage and Brendan Schwartz, often share interesting insights on:
How they're growing their company
The mistakes they've made, and
The lessons they've learned.
Take this post as an example.
Here, they shared how they made a difficult decision of either selling Wistia for a large sum or keep running the company themselves.
This post isn't targeting any keyword but a lot of people who read it found it helpful for their own businesses.
Here are some examples from the comments section:
That's not all…
This post alone converted some of their readers to customers.
Here are some examples:


Aside from this piece, Wistia also has other opinionated content examples.
Here are some of them:
As you can see, opinionated content helps Wistia to:
Create content that gets read
Inspire their readers, and
Convert readers into paying customers
When To Create Opinionated Content For Your SaaS Brand
I spoke with Ryan Law, the Director of Marketing at Animalz and he recommends opinionated content for SaaS companies in three common situations.
1. To differentiate in a crowded marketplace
"If every other blog in your industry is following the same cookie-cutter content process, ditching the SEO and "ultimate guides" and sharing contrarian opinions is a powerful way to demonstrate personality and share something memorable."
2. When credibility is a bigger problem than awareness
"Listicles and "what is" content are great for generating traffic, but they'll never convince senior managers, executives, or marketing-allergic professions (like developers) to take you seriously. Smart, well-founded opinions demonstrate an expert understanding of your industry, allowing you to go beyond the dime-a-dozen "best practices" and share opinions that only true professionals have."
3. When you want to rally a community around you
" Opinionated content polarises, and that's a great thing. Business sells to passionate brand advocates, and not half-interested consumers. Opinions allow you to attract a small, loyal audience of people that subscribe wholeheartedly to your ideas."
Final Thoughts: Stand Out In The Sea of Content Sameness With Strong Opinions
Writing about SEO-driven content feels safe because that's what everybody does.
However, if you want to stand out, amplify your voice, and build a loyal fanbase for your SaaS brand, write about your opinions.
With opinionated content, you leave your readers with two options. Either they agree or disagree with you.
Those who disagree with you would most likely respect your opinion and remember you as that SaaS brand that's different.
Those who agree with you will tell others about your SaaS brand and become loyal fans and customers.
Creating opinionated content feels scary, as it's sometimes contrarian and goes against the norms in the industry.
It's a great way for you to build your SaaS business, establish your reputation, and promote your brand.
As a SaaS content marketing agency, this is one of the content strategies we recommend and implement for our clients.
If you'd like us to help with your SaaS content marketing strategy, click on this link to get a free content analysis from our lead content strategist.
You can as well join our newsletter, SaaS Growth Bites, below to receive exclusive insights and tips every Thursday, on the best way to grow a SaaS business using content marketing.