If you run a SaaS business, you probably know by now that search engine traffic (aka organic traffic) is a big deal.
Hence, the competition to get a top spot in the search engines (especially Google) is becoming tougher by the day.
Also, search engines work in an unpredictable manner.
Such that, what works some months ago, might not bring results today.
And if you still rely on the old technique of "blogging and praying (hoping) that your pages rank", you'll probably wait forever.
To increase organic traffic to your blog in 2021 and beyond, you must be strategic about it.
You must devise means to bring in organic traffic consistently to your blog.
Else, you'll spend time and resources creating in-depth content that no one ever reads.
If you'll like to learn how to drive more search engine traffic to your blog, then this post is for you.
I'll share with you 4 tips and strategies that work really well for increasing a blog's organic traffic right now.
Let's get started.
Organic (Search Engine) Traffic: Why Is It a Big Deal?
Recent research by BrightEdge shows how important organic traffic is.
According to the report, search engines account for about 51% of all website traffic. Trumping other sources of traffic, such as social media and paid Ads.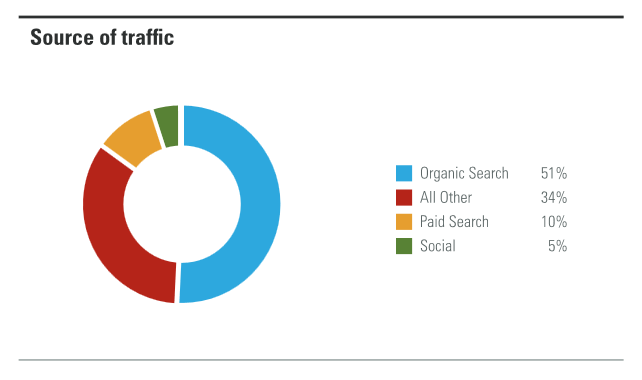 This shows that, if you're not focusing on optimizing your content to generate high-quality organic traffic as a SaaS business owner, you're leaving so much on the table.
Another research conducted by SparkToro also buttresses this fact.
According to them, Google currently accounts for 57.8% of referral traffic on the web.
Aside from Facebook which records 5.2% of website traffic, other search engines such as Yahoo and Bing account for 4.3% and 3.7% of website traffic, respectively.
From the above, you can see that in 2021 and beyond, generating organic traffic for your business is uber-important. And this is why a lot of businesses continue to invest heavily in it.
In fact, according to Borrel Associates, businesses and brands in the United States spent about $79.27 billion on SEO services in 2020.
As you can see, businesses now spend more money on SEO services year over year. If it weren't that important or getting them results, they would most likely not do so.
Here are some other reasons why organic traffic still matters for you as a SaaS business owner in 2021.
1. You Spend Less to Generate More User Signups
If you're looking to get more leads and user signups for your SaaS business and spend less money doing so, then you should leverage organic traffic.
This is because, if you optimize your content for search engines, you'll most likely get better results from it in the long run.
According to Demand Metric, by using content marketing alone, business owners get results that outperform traditional marketing in terms of ROI.
Also, the amount they spend while doing so is 62% less compared to if they use other traditional forms of marketing.
2. You Gain The Trust of Your Audience Easily
Gaining the trust of your audience matters to you as an online business owner. If you want to gain this trust easily, then you should optimize your content for search engines.
When you do, you're most likely to show up in the SERPs when your target audience search for keywords related to what you do.
Since most people trust results from search engines, chances are that you'll gain their trust that way.
Fun fact,: About 61% of consumers in the US have made a purchase after stumbling on a blog post.
3. You Get Website Traffic On Autopilot
This is one of the most important reasons why organic traffic continues to be useful.
If you create content and optimize it for search engines, you'll continue getting website visitors and traffic on autopilot.
Unlike paid Ads where you need to spend money each time you want to get more traffic to your website.
With search engine traffic, you only need to set it up once and you'll continue getting targeted traffic without lifting a finger.
Sounds cool, isn't it?
So, how exactly do you increase organic traffic to your blog in 2021?
Let's get to it.
How To Increase Organic Traffic To Your Blog Using Some Proven Tips & Strategies
You can see from the above that organic traffic is important and anyone running an online business should focus a lot on it.
What if I tell you that, most people who create content and optimize it for search engines do not get any results from it.
You're surprised, right?
Well, don't be.
Research by Ahrefs proves that this is the case. According to them, 90.63% of the content published online, does not get any traffic from Google.
This shows that optimizing your content for search engines isn't just enough in 2021.
You need to go the extra mile if you want to get any tangible results.
Still wondering how to increase organic traffic to your blog in 2021?
Here are 4 proven tips and strategies you should implement right now.
1. Start With a Solid Foundation
If you want to get any form of results from organic traffic, then you should start with a solid foundation.
If you don't, you'll most likely fail with it.
The foundation that any SaaS business which optimizes for search engine traffic should start with, is keyword research.
The reason is simple.
If you create content that nobody is searching for, your chance of getting any search traffic from it is slim.
So, when you perform keyword research, you'll understand exactly what your target audience is searching for.
That way, you can create SaaS content that ranks well and gets traffic for you from these search engines.
How To Get Started With Keyword Research For a SaaS Business?
Simple, by doing a Google search.
Say, your SaaS business is in the productivity niche, you can type the keyword "productivity tips" into Google.
When you do, it'll auto-suggest other keywords that people are actively searching for which are related to this root keyword.
From this, you can see that some of the keywords that your audience is also searching for include:
Productivity tips for working from home
Productivity tips for work
Productivity tips for entrepreneurs
Productivity tips for small business owners
And so on.
With this information, you have an idea of some potential keywords that you can target for your content.
However, you don't know exactly the number of people searching for each of them.
While you can go ahead and write about any of these topics, you can take it a step further by knowing the approximate number of people searching for these keywords.
To do this, there are free tools and paid tools that you can use.
Some of the free options are Google Keyword Planner and UberSuggest.
The paid tools alternative include Moz, Ahrefs, SEMrush, and so on.
For the sake of this post, I'll use SEMrush.
Let's say, you want to target "productivity tips" as the keyword to write on.
All you need to do is hop on to SEMrush's Keyword Magic Tool and enter your target keyword and hit search:
Once you do, it'll give you a comprehensive insight and report about that target keyword
As you can see, the root keyword "productivity tips" has a search volume of 1000.
What this means is that there are approximately 1000 persons searching for this keyword on Google.
Other related keywords such as "ADHD productivity tips" "transcription productivity tips" and "productivity tips for working from home" have a search volume of 70, 70, and 110 respectively.
Please take note that the keyword volume is just an estimation. The exact number of persons searching for that keyword might be less or more than that.
With SEMrush, you can filter for different criteria such as volume, keyword difficulty, CPC, and so on.
After performing keyword research, you now have an idea of what your target audience is interested in, then you can proceed to the next strategy.
Additional Resources to Learn More About Keyword Research

1. Keyword Research: The Beginner's Guide By Ahrefs

2. Keyword Research For SEO: The Definitive Guide

3. The Guide to Keyword Research By Neil Patel

4. How to Find Keyword Opportunities Using Google Autosuggest and People Also Ask Box
2. Create Content That Address Your Readers' Pain Points and Solve Them Genuinely
After keyword research, the next thing you need to do is create content.
While there is a lot of emphasis on creating content, there's still a lot of ground to cover to do that well.
This is because a lot of fluff content out there, which doesn't generate organic traffic.
Here is how to create pain point content that drives traffic from search engines.
Publish long-form Content
If you want to create content that genuinely helps your target audience, then you should focus on publishing long-form content.
The reason is simple.
There's a high chance of solving your target audience's problems when you publish long-form content. Since they're more detailed and generally thorough.
Also, numerous industry researches have shown that long-form content outperforms short-form content.
In recent research, Backlinko found out that the average length of posts on Google's first page is 1890 words.
Hence, if you want to stand any chance of getting traffic from search engines, you should publish long-form content.
Create Content that Matches Search Intent
If you Google "educational content marketing", you'll find out that this article I wrote on Winsome Writer currently ranks number 1 on the first page of Google.
That's not all…
I also rank above some of the biggest brands such as Content Marketing Institute, Izea, Convince and Convert, Forbes, and so on for this keyword.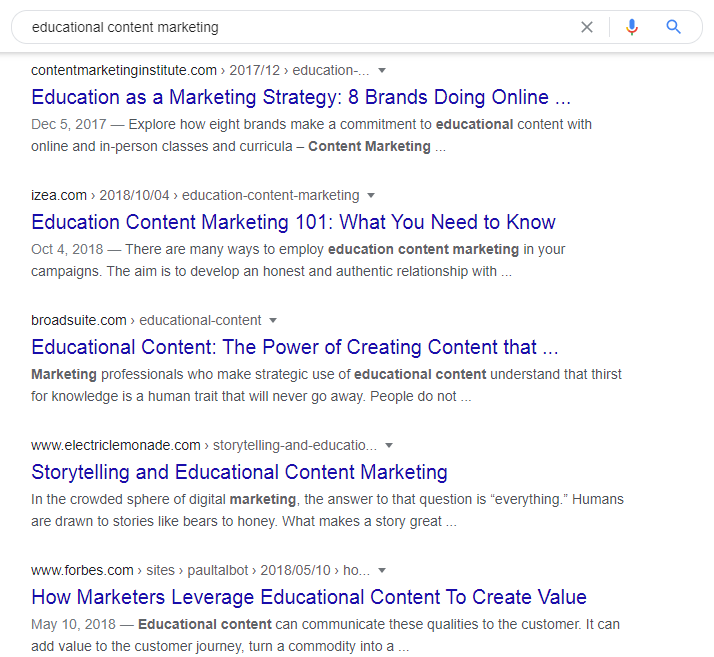 So, how did I do it?
By creating content that meets the search intent of my audience. When you do this, your content will definitely get organic traffic from search engines.
By search intent, I mean, ensuring that your content answers the questions of your audience correctly.
And guess what?
With a simple Google search, you can easily evaluate the search intent of a particular topic.
Here's an example:
Say you want to write a post targeting the keyword: "resources for freelance writers"
You can search for this keyword on Google and it'll show you exactly what other ranking websites have written on this topic.
As you can see, most of the ranking pages are writing list posts.
This means that most of the people searching for this keyword on Google are interested in reading a listicle that shares different resources a freelance writer can use.
Create Content for Users
Attracting users from search engines is just a piece of the puzzle. Ensuring that they stay longer on your website and come back for more is even more important.
This is because, if users stumble on your website through an organic search, click on it, and leave almost immediately, then you're sending a wrong signal to the search engines.
In most cases, this could lead to your page receiving less organic traffic in the long run.
This is why you should create product-led content for users and not just search engines.
Some of the things you can do include:
Having a great UX design.
Include multimedia such as images, videos, and screenshots, in your post.
Structure your post with the correct H2, H3, and H4 tags where appropriate.
3. Create and Implement a Distribution Plan From Day One
Gone are the days when you can just create content and expect traffic to come out of nowhere.
That's no longer the case.
If you want to increase organic traffic to your blog, you need a distribution plan.
This is because, while search engine traffic could be a gamechanger for your brand, it takes some time for it to pick up.
So, you shouldn't just create content and pray that it ranks.
Rather, you should spend time and resources promoting your content to your target audience after hitting the publish button.
The more you promote your content and earn relevant backlinks to it from other websites, the higher your chances of ranking in the search engines.
A recent Perficient Digital study indicates that there's a strong correlation between backlinks and rankings.
H
ow to build backlinks that drive consistent traffic to your website from search engines?
Guest Post on Other Relevant Websites
Guest posting has been in existence for a while and is still relevant to date.
Apart from helping you to show up as an expert and also to be well-known in your niche, it's also great for link building.
While there are some nuances that come with guest posting, all you need to do in most cases is to look for websites in your niche or other relevant niches that accept guest posts.
Then, pitch them your topic idea(s).
Before you decide on a website to publish your guest post on, make sure to check the content previously published on the website. This helps you to understand the type of content they typically accept and the tone of other contributors.
Recommended Resources:

👉 Here's a guide from a blogger who published 80+ guest posts in a year.

👉 How to write a guest post pitch that converts: 5 proven steps.
Collaborate with Other Website Owners in Your Niche
One of the best ways to get relevant backlinks to your content is through strategic collaboration with other webmasters and publishers in your niche.
The reason is simple.
When you collaborate with others, you stand a chance of knowing about other link building opportunities that you never thought of previously.
Not only that, they'll most likely keep you in mind whenever they're working on any piece of content for their website or as a guest post.
You can reach out to website owners in your niche directly for a collaboration.
Alternatively, you can join relevant groups on social media where other website owners hang out to network with them.
Recommended Resources:

👉 List of relevant groups on Facebook to collaborate with other SaaS business owners.

👉 List of slack groups for marketers that you can join for collaboration
You can also check out Synergy4SaaS, a collaboration platform for SaaS businesses.
Show Your Expertise on Forums
In most cases, forums serve as a means to show your audience that you're a subject matter expert in your chosen niche.
However, it's also an effective way to promote your content and increase organic traffic to your blog.
To get started with this, I highly recommend that you should search the forums extensively, to have an idea of topics that generate a lot of interest.
Afterward, you should take your time to answer these questions and if possible, add a link to your content where relevant.
Although this might take time before you get traction, it's a great promotion strategy for your content.
Some of the popular forums you can join are:
4. Don't Rely on Google Alone
There's a lot of emphasis on organic traffic from Google, which is understandable.
As I mentioned previously, Google controls a large chunk of search engine traffic.
But does this mean that you should rely on it totally?
Well, it depends on where you feel that your target audience is active most when searching for information online.
That said, if you depend on organic traffic from Google alone, you might be leaving so much on the table.
But, how exactly can you look beyond Google to increase organic traffic to your blog?
Optimize for Other Search Engines
Google is the dominant search engine, however, others are becoming more popular too.
According to Statista, while Google's share of the search engines market declined from 91.7% to 87.96% between 2012 and 2019. The market share of Bing rose from 3.5% to 5.26% within the same period.
This shows that there are users on other search engines. If you want to get organic traffic from them, you should diversify beyond optimizing for Google alone.
Below are some other search engines that you can get organic traffic from aside from Google:
Bing
Yahoo
DuckDuckGo
Ecosia
Baidu
Yandex
Leverage Email Marketing
Email marketing is another way to get traffic to your blog from existing customers and subscribers.
While this might not be a perfect example for increasing organic to your blog, it's definitely one of the strategies to give your new blog posts traction and send the right signals to Google and other search engines.
This is because, when you send an email to your list with your new blog content, most of them will likely check it out especially if it's interesting.
Here's a good example from Ryan Law, the Director of Marketing at Animalz, sharing a link to one of their recent blog posts via email.
As you can see, in the email above, Ryan tells Animalz subscribers about the new blog post, what it's about and also includes a link for them to read it.
Use Social Media the Right Way
Social media is another strategy to use for getting your content in front of the right audience.
The beauty of using social media for this purpose is the fact that it could eventually go viral and get thousands of views and shares from your audience.
While social media might not work well organically, because the results don't compound with time, it still helps to use it as a channel for promoting your content.
That said, just sharing links to your content on social media doesn't work anymore.
To get the best results from social media, you should treat it as a stand-alone platform and add value to your audience (depending on the one you're using)
Here's a good example from Harry Dry's Marketing Examples, where he uses Twitter threads to provide immense value to his audience and promote his content.
As you can see, this thread he created to promote his content has generated over 7,000 likes, with about 2,500 comments so far.
That's not all…
Each Tweet under the thread gets engagement individually too. And at the end of the thread, he subtly promotes and shares a link to the article on his website.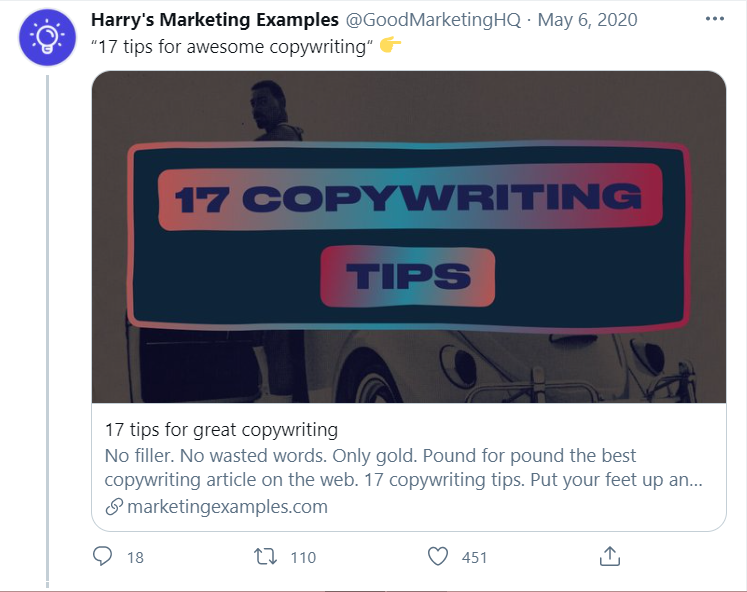 Not only does he gets his content in front of the right people immediately, but he also redirects them to visit his website for more insights.
You can use this exact strategy on other social media platforms such as LinkedIn, Facebook, Instagram, and so on.
Use Videos Strategically
Videos, if used strategically are great for increasing organic traffic to your blog.
The reason is simple.
A lot of people engage more with videos and are likely to take action after watching one.
Say, you want your followers on social media and elsewhere to know about a new blog post you've just written, then recording a short video, with a Call to Action for them to go and read it, will most likely get you the desired results.
Here's a good example from Andy Crestodina, CMO of OrbitMedia, telling his Twitter followers about a new blogging study they conducted.
As you can see, in the video, he highlights the important takeaways from the study and asks his followers to click on the link to read the study.
This short video (Less than 2 minutes long) resulted in:
About 1,700 views on Twitter
About 6,555 views on LinkedIn
More than 300 comments on LinkedIn
About 50 shares on Twitter
More than 100 comments on Twitter and LinkedIn combined.
What this means is that using videos strategically to promote your content, is one way to get it in front of the right audience
Final Thoughts: Get More Qualified Traffic (and Eyeballs) To Your SaaS Blog
Organic traffic has proven to be the most consistent and reliable form of traffic for website owners, especially if you run a blog for your SaaS business.
And in this post, I have shared with you how to increase organic traffic to your blog using four (4) proven tips and strategies.
First, you should make sure that you start your blog on a solid foundation with keyword research.
Second, prioritize creating content that is useful and valuable to your audience.
Third, don't just create content and hope that it ranks. Rather, you should have a distribution plan.
Finally, don't make the mistake of putting all your eggs in one basket by relying solely on Google for traffic.
If you follow all these steps, getting more organic traffic for your blog won't be something to worry about any longer.
This is exactly what we help you achieve here at Your Content Mart.
As a SaaS content marketing agency, we help you create a SaaS content marketing strategy that aligns with your business
That way, you can generate high-quality traffic and increase user signups to your software.
And the best part, you can focus on other aspects of your business, while our team takes care of everything on your behalf.
If you'd like us to help with your SaaS content marketing strategy, click on this link to get a free content analysis from our lead content strategist.
You can as well join our newsletter, SaaS Growth Bites, below to receive exclusive insights and tips every Thursday, on the best way to grow a SaaS business using content marketing.